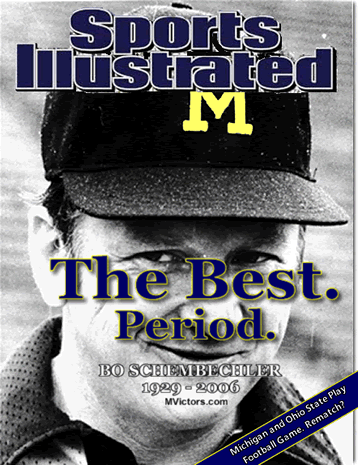 Stumbled upon this nugget this am from Business Insider.  They asked litigator Dan Webb of Chicago powerhouse law firm Winston and Strawn about his most memorable courtroom moment. 
Webb recalled his defense of sports agent Lloyd Bloom back in 1989, who was (allegedly) involved in a bunch of shenanigans with amateur athletes including Michigan's Garland Rivers.  Several officials from various universities were asked to testify, and Webb explains the events of one memorable day:
One of the marks of a great litigator, he said, is to know within a half-second what you want to do and do it flawlessly. One of those quick decisions was required in the sports agent's case.

At one point in the trial he had to cross examine the beloved Father Ted Hesburgh, the then-president of Notre Dame. Crossing Father Hesburgh was no trouble. "I didn't mind or hesitate," Webb said.

But soon enough legendary Michigan football coach Bo Schembechler took the stand. Webb watched how the jury responded to him — they almost bowed, he said.  What was Webb's half-second decision?

"I took one look at Bo Schembechler," Webb said, and thought, "I can cross a Roman Catholic priest, but not the greatest coach" in college football history.

No questions, he told judge.
While Bloom didn't have the stones to talk to Bo, as you might expect the prosecuting attorney in the case let Bo do his thing:
Under questioning by Howard Pearl, the prosecutor, Schembechler, who is also Michigan's athletic director, told a packed courtroom that he met with Rivers in the spring of 1987 to ask him about rumors that he entered into an agreement with agents before the 1986 season ended.

Rivers denied the rumors until agents of the Federal Bureau of Investigation confronted him at the university, Schembechler testified. The coach then met with Rivers once again, telling the athlete that he had lied and that his actions could have cost Michigan the Big Ten championship.

"I told him he was a disgrace to Michigan football," Schembechler said. "I told him no more grant-in-aid. His locker is closed, and his picture has been taken off the wall."