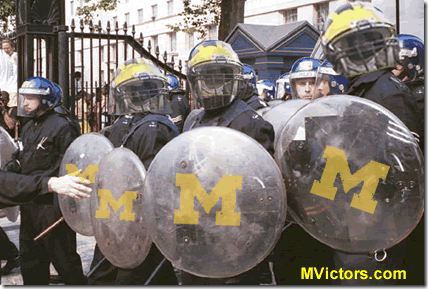 I highlighted one phrase from Dorsey's Q&A with TomVH at mgoblog on my post earlier this morning and meant to follow-up on that.  Here's that post and here's that phrase:
DEMAR: …..I haven't heard anything from the coaches yet.
On first glance that could be taken as a bit troublesome.  I busted into Ira and Sam's "Recruiting Roundup" on WTKA this morning to offer up Webb some well-deserved praise and then asked Sam about this comment.  Note that earlier in the broadcast Sam was touting a yet-to-be published interview with Scout.com and Dorsey.  Audio:
Sam Webb - WTKA 06-09
Play Now
|
Play in Popup
|
Download
_
So if you don't care to listen, Sam clarifies that Dorsey told Scout.com he did speak with the coaches but added that Dorsey says his parents have handled much of the talking (and perhaps that's what he meant in the mgoblog interview). 
And later this morning the GBW/Scout piece ($) came out and there's this: [Ed. I don't normally cut and paste paid content but I think this safe.  Sign up for GBW.]
GoBlueWolverine:  Have you been in contact with the Wolverine coaching staff?

Demar Dorsey:  "Yeah, they were down here checking on me. I talked to the coaches a couple times, but my parents talked to them most of the time."
Not surprisingly, word on the street is that Rodriguez is "furious".   Via a  tweet from Angelique:
Am told by someone who would know that Rich Rodriguez is furious about the Demar Dorsey situation.
And that sentiment is shared by much of the Michigan faithful, accurately summed up in this tweet by the great Craig Barker of the HSR:
Well, I'm glad to see that Ann Arbor Torch and Pitchfork will be doing another huge bit of business today. Blerg. #fb
Ugh.
Related: