Ed.  Dr. Sap is back with his decals for week 2.   I added the Editor's pick and Fan award this week.  Here are the picks from Week 1.

Back when Bo was coaching the Michigan Football team, he awarded decals for individual as well as TEAM accomplishments.   He also selected Champions each week.
Not only were the obvious categories (offense, defense, special teams) selected, but Bo also made it a point to recognize the not so obvious ones – Scout Team Champions and Team Hustlers – each week.
It was just another masterful way to recognize and motivate each player, regardless of position and class, to further the cause of THE TEAM.
Below are my choices as well as a Uniform Champion. With all the tweaks to the Michigan uniform recently, I'll weigh in on what's cool and what's not.
OFFENSE
DENARD ROBINSON – did it all on offense for UM. Ran for 218 yards and 2 TDs and threw for 208 yards and 2 more TDs.
DEFENSE
JAKE RYAN – did #47 proud by making plays at the beginning of the game and on the last drive for Air Force by knocking down their last pass.
SPECIAL TEAMS
BRENDAN GIBBONS – his 31-yard field goal made it a touchdown game instead of a field goal game – BIG difference.
HUSTLER /
SPARKPLUG
DEVIN FUNCHESS – caught 4 passes for 106 yards and 1 TD. A tight end with size, speed and hands? Outstanding!
EDITOR'S PICK
DEVIN GARDNER -  For enduring the 2 Devins press conference and having a very strong game.   He improved from week 1 and is Denard's #1 target right now.  (Kind of feel bad for Treezy).
UNIFORM CHAMP
SOCKS:  While I'm not a fan of the blue socks, they did look sharp with the maize 'M' on them.

UFER MAIZE & BLUE
FEDORA FAN
U-M STUDENTS:  Tried to dial back the "YOU SUCK" chant.  Student section was mostly full by around kick-off.
P.S. Fan Award Runner Up.  Paging this 100% True Blue American Patriot…wait…jerk!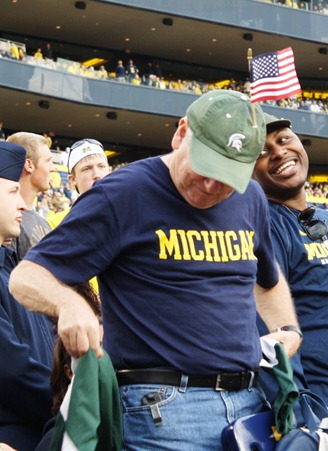 Related: