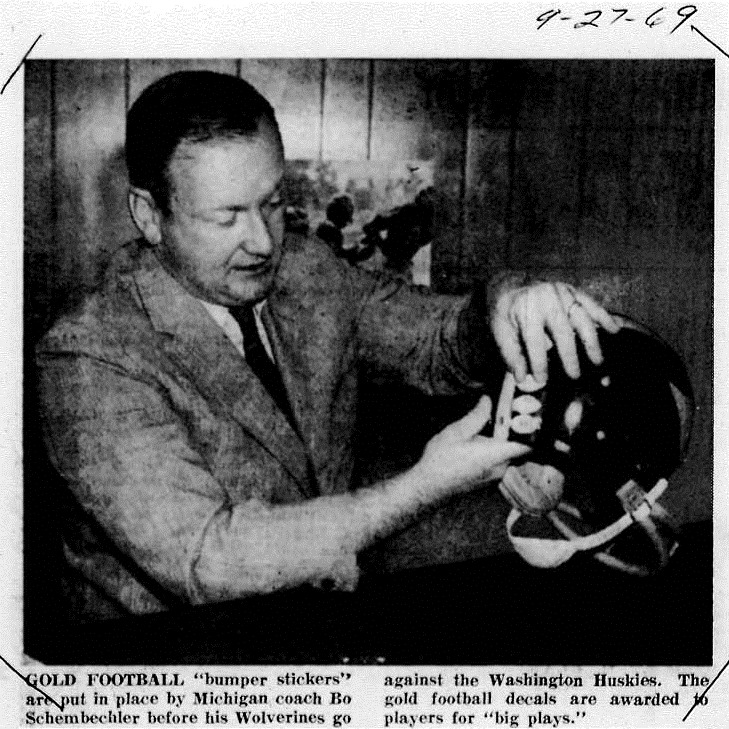 Bo reveals his "bumper stickers" in 1969 (via the illustrious Dr. Sap Archives)
Steve "Dr. Sap" Sapardanis returns with his decal-worthy champions for the games. I've always said we'd do this until the helmet stickers return. Will they return in 2015? In the meantime:
Offensive Champion – I thought Jake Butt showed that he is ready to have a huge, breakout year. The play-action waggle play that Brian Griese brought to prominence back in the late 1990's is going to be the bread and butter of this offense – provided Michigan can run the ball better than what they did last night – and no one is going to benefit more from this play than Butt. His touchdown grab was money and showed that he is ready to be the go-to-guy on offense.
Defensive Champion – What can I say about Jabrill Peppers? I have never seen a defender make blockers miss and use the swim-technique so well and so fluidly to get to the ball like #5 did last night. You can see that this guy has been coached well and has been blessed with some tremendous talent. The scary part? He is only going to get better!
Special Teams Champion – I liked how Blake O'Neill effectively used his Aussie punting style to flip field position and limit the Utes to just one return for only 14 yards. One punt was downed near the goalline and another went for 50 yards – I'll take that every game.
Here's Sap's virtual helmet updated to honor Butt, Pep, and O'Neill: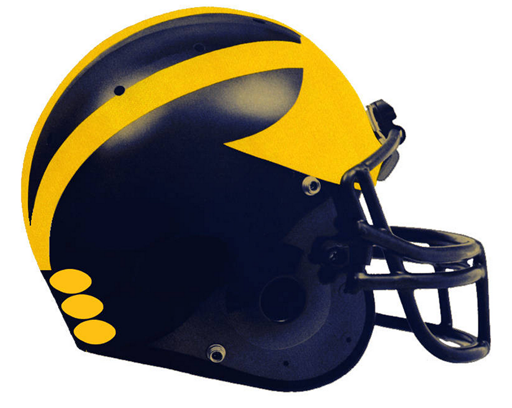 Uniform Champion – I gotta say, it was so cool to see the all-white uniforms once again! Michigan wore them from 1973-1975 (Uniform Timeline) and they looked just as sweet as they did when guys like Dennis Franklin, Gordon Bell and Rick Leach wore them back in the day. I was expecting to see the maize hue of the helmets look more orangey than they did, but they looked good – must be the flakes or speckles in the paint that gave them a less orangey look than I expected.
Ufer Fan Champion – My good friend and author, John Kryk (Stagg vs. Yost) lives in Canada and that means he is at the mercy of Canadian Cable Television (and hockey coverage) when it comes to watching sports on Canuck TV. Yesterday afternoon, he discovered that Canadian Cable giant, Rogers Cable, was not going to be airing the Fox Sports 1 Channel. For Kryk and the rest of Canada – at least the entire province of Ontario – that meant no coverage of the Michigan-Utah game. Before he decided to make plans to watch the game in Buffalo, NY or Port Huron, MI, Kryk put in a call to a contact he had at Rogers Cable. Long story short – Rogers Cable made a programming change and aired the Michigan-Utah game last night. To quote Michigan grad James Earl Jones, "Impressive! Most impressive!"
Follow MVictors on Twitter
More from Utah: