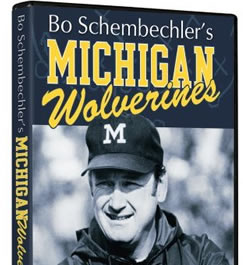 One of the perks of posting on this site, after you filter through all the spam, is occasionally you get offered free stuff folks want you to promote. Some of the stuff is a little weird but every once in a while you get something pretty cool. I was contacted a little while ago about a DVD on Bo Schembechler coming out later this month and of course agreed to take a look.
I'm glad I did. Bo Schembechler's Michigan Wolverines overcomes its vanilla title with a strong collection of interviews and vintage clips on Bo. If you liked HBO's The Rivalry from last year, you'll like this. It follows the same format where they rolled through Bo's career with video clips and some narration, and they mix in interviews with journalists, coaches and former players. Here's a few notes:
* The DVD features interviews with Bo's Lasting Lessons author John Bacon, Mitch Albom, Lloyd Carr, Jamie Morris, Michael Rosenberg, Jim Brandstatter, former AD Don Canham, equipment manager Jon Falk and more.
* Extra features in DVD's usually kind of suck, these are outstanding. It includes a 10 minute or so discussion with Bo and Woody Hayes on a couch in some living room. They talk about the rivalry, their mutual respect, the Rose Bowl, the meaning of 'The Game' and more. Also included is a video clip of legendary radio voice Bob Ufer inside the press box doing his thing, this time for the camera. It was great to see.
Summary: It's worth a slot in your collection. I'm sure many of the video clips have been released in some form or another over the years but to have them all together in this tribute to Bo makes it special. It will be released August 26, 2008 but you can pre-order it here.
Free DVD Contest: ….Want to own a FREE copy of this DVD before it is released? The first (and probably last) MVictors contest, email me or post a haiku or spicy limerick related to the upcoming football season before Friday August 22nd and I'll pick a winner and send it to you. If you post, leave your email address (it won't be displayed to readers). Points of course for a good laugh and on a creative take on the season. I'll post the winning haiku.