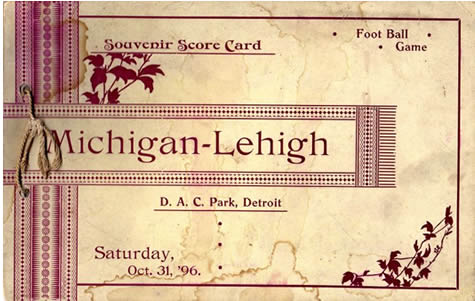 A likely one-of-a-kind piece of Michigan football history popped up this week on eBay: a program from the Michigan vs. Lehigh game held October 31, 1896 in Detroit. It's incredible and you can see the full auction here.
The item is owned by Brian who runs umichfootball.com, a site dedicated to Michigan Memorabilia. Definitely check it out. Brian bought this beauty from an antiques dealer in Michigan and he's listing it for a cool $4,000. I'd love to know how much he paid for it! Whether someone buys it this week or not, he must be making out pretty good here.
Here's all the pages from the program, all in pretty good shape:
As for the game itself, the Victors-to-be prevailed 40-0. Chicago Tribune described the game as such:
Michigan was nervous in the first half, and three times lost the ball on fumbles, once when it was but three yards from the Lehigh goal. After the men got warmed up, however, they played without blunder and had the Lehigh line practically at their mercy.
You can read the full Tribune article here, as usual there's always something special about these ancient sports articles.
Michigan had an exceptional season in 1896 as Michigan's win against Lehigh continued an undefeated run. The week later the Wolverines edged Minnesota (pre-Little Brown Jug) 6-4. Home wins over Oberlin and Wittenberg set up a showdown with the University of Chicago. I may have more on that game later, but unfortunately the Wolverines fell 7-6 in what was the first major college football played indoors, inside "The Coliseum".
While the season may have ended in disappointment, a great tradition was born. Shortly (literally days) after this game, the concept of the Michigan Marching Band was hatched:
In the finest tradition of 19th-century Americana, the origin of the Michigan Marching Band was a grass roots student effort. In November 1896, the University of Michigan Band held its first rehearsal. At the behest of University President James Burrill Angell that the newly-formed band prove itself to be a "sincere venture," the U-M Band gave its first public performance in 1897 at old University Hall for the Law School's annual observance of Washington's birthday. The first appearance on a football field was in the fall of 1898.
The auction closes July 30th, check it out here.