The next installment of eBay Watch takes a look at a 1904 copy of your favorite college fight song, Louis Elbel's 'The Victors'. The music was published by Elbel Bros who took up shop in South Bend of all places.

More of the same: The season of 1904 featured a Michigan team that continued its reign of terror on opponent finishing a perfect 10-0 and outscoring opponents 567-22. The highlight was another great win over Chicago: a hard fought 22-12 victory on November 12 that aided Michigan's resume to claim the national championship. Unfortunately they didn't meet up with Minnesota that season as the Gophers also finished perfect in '04. The teams did face off in 1903 and settled on a 6-6 tie, a game in which Yost not only left a certain water receptacle behind, he also left with a rare blemish on his point-a-minute run from 1901-1905.
Mountaineer Track Meet: The 1904 squad faced off with the team that every college football fan would love to see visit Ann Arbor in the next few years…the West Virginia Mountaineers. On October 22 coach Fielding Yost took on the team from his home state and beat them like they just sued him for $4 million. Make that $5 million. The Wolverines won 130-0 in front a sparse home crowd. Here's the deep coverage from the New York Times:

Apparently that's all that was fit to print. Michigan scored over 43 points for each WVU net yard. Perhaps coach Yost was battling a few demons that day maybe reflecting some issues from his West Virginia childhood [pan to Zoolander black lung scene]. But memo to the late Yost: it's ok to take your foot off the pedal once the scoreboard guy hangs up both 9s.
Fortunately the coverage didn't end with the Times. I stumbled on some more on the game from Time magazine, as they did a piece 35 years later on Michigan football. It leads with the greatest quote ever:
When the West Virginians returned home the Daily New Dominion of Morgantown interviewed them and reported:

"It was declared that every player on Yost's team weighed eight tons and had an average speed of 96 miles an hour. . . . One player said he was plucked up in the air and thrown over the head of a creature which was at least 100 feet high and had eight pairs of arms. …"
This remains the only time that Michigan and West Virginia have met on the field and suffice it to say the Mountaineers won't be returning to Ann Arbor anytime soon. The 130 points narrowly overtook the 128 Yost's 1901 squad dropped on Buffalo and will remain the most scored by a Michigan football team.

Quick Willie: The cover of the sheet music features the 1904 team photo, the same one you can view at the Bentley Historical website. In this case the Bentley also links to an alternative team photo taken by Rentschler's Studio in Ann Arbor. It features meanest Wolverine "creature" of all, the great captain Willie Heston posing confidently letting you know that he's Speedy Will and he's world class so dig it: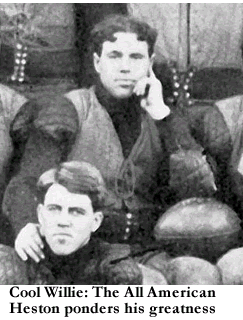 Elbel's Inspiration: When the sheet music was printed in 1904 the march was only a few years old. The tune was pulled together by Elbel, a student at the time, during his road trip to the game with the University of Chicago in 1898. As recorded in the October 1979 version of the Michigan Alumnus and posted on the alumni website, here are Elbel's own words on how the Chicago win and the season of 1898 inspired the greatest fight song in the world:
"We were crazed with joy," Elbel. "We paraded in the dark. We yelled and followed our U-M Band, singing to the tune of "Hot Time in the Old Town." It struck me quite suddenly that such an epic should be dignified by something more elevating, for this was not ordinary victory.

"My spirits were so uplifted that I was clear off the earth, and that is when "The Victors" was inspired. I put in a lot of "hails" and I knew the fellows would get them in with the proper emphasis. Through them, the title suggested itself, and I dedicated it to the Michigan team of 1898."
More Posts on M history: