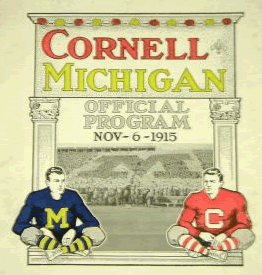 Here's a real nice item that is being auctioned on eBay. It's pre-World War I Michigan vs. Cornell program from the game that was held on November 6, 1915 at Ferry Field in Ann Arbor. It looks like a real beauty. The only problem? The dude selling the program set the opening bid price at $2,499.00. Say what? No surprise as the auction is about to end and there are no bids.
Here's what we know about the game. It was homecoming and unfortunately Fielding Yost's boys disappointed the 22,000 Wolverine faithful that visited Ferry Field as Cornell romped 34-7. Further digging found that Cornell is recognized as the national champion that year, although the means to identify the national champion wasn't a clean and concise as it is today (ha ha). Check out this post from Scout.com:
Cornell is recognized as the 1915 title holder, but that honor was "awarded" to them in ham-handed fashion two decades later. First, in 1933, a former Ivy League player named Parke Davis published his hand-picked choices for national champions in those seasons before the Associated Press and United Press began doing polls. And then in 1941, when the Helms Athletic Foundation decided it was going to give an annual award to college football's best team, it deemed it better if they had some history behind them so retroactively ranked champions from 1883 on. They, too, chose Cornell in 1915.
Elsewhere on eBay, how about this beauty: Michigan football toilet paper for those Buckeye fans that have learned to use this modern tool of personal hygiene: