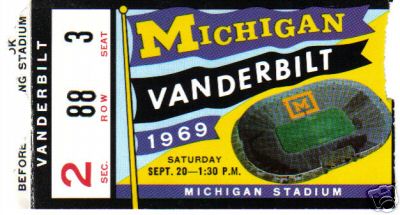 An interesting item popped up on eBay in the past week. It's a torn ticket stub from the 1969 Michigan-Vanderbilt game held September 20, 1969. Normally a non-conference game against Vanderbilt wouldn't spark much intrigue but this one is special: it was Bo Schembechler's first game as head coach.
You don't see a lot of 1960s era Michigan items up on eBay. Michigan football was a bit down, folks didn't hold onto to stuff back then and certainly fans didn't realize quite yet that they had a legend standing on the sideline. But some cool items have survived like the Vandy stub and memorabilia like this vintage '69 pocket schedule with a great photo of young general Bo: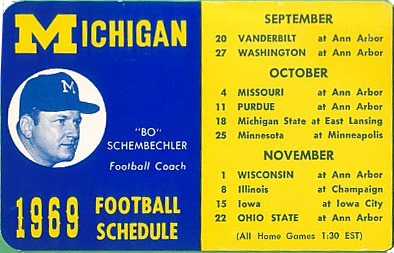 As far as the game that day, Bo's not-so-mellow men came out firing as the unranked Wolverines put a 42-14 beat down on the Commodores in front of 70,000 curious fans. The game was the first played on the artificial turf that new AD Don Canham used to carpet the gridiron, but I suspect that most fans wanted to get a good look at this guy "Bo". Apparently they saw enough as only 49,000 showed up the following week against Washington. The holder of this ticket stub didn't get the best view of Bo as he was seated in row 88 on the opposite side of the field, but oh well.
You may know that the UM Bentley library has archived team info and photos from each season that football's been played in Ann Arbor. There are a few holes in the early years (missing records of games or team members) but it is rare to see gaps in the modern era. I was shocked to see that the 1969 team record had a team photo that doesn't have the names of a couple players including this fellow: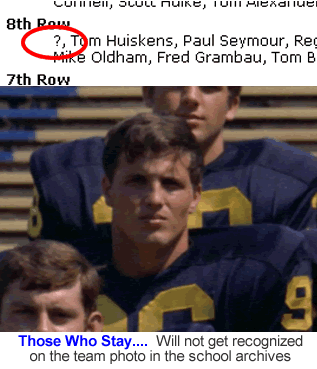 S.O.S… if you know who this guy is let me know. I'd like to know who made it through the hell of Bo's first summer (the description of which makes Bo's Lasting Lessons a must read), enough so to make it into the team photo yet didn't get his name in the archive.
UPDATE: You may have read that members of the 1969 met with Coach Rod to share some wisdom about what it means to be a Michigan man and share the challenges of having a new coach. MGOBLUE.com posted photos from the event.