[Ed. 7/6/2010 – Another (or maybe the same?) 1997 Championship Ring is currently up for auction.  Details here.  ]

This site has profiled a few different Michigan championship rings that have ended up on eBay. Long time readers may recall:
1980 Rose Bowl ring: Probably the wildest story, a ring alleged to a salesman sample bearing the name 'McCartney' on the side prompts a note from former Michigan and Colorado coach Bill McCartney's wife Lyndi, asking that the ring be returned to her husband.
Funny, when I was posting about these other rings it crossed my mind that this day could happen but hoped it never would. It did: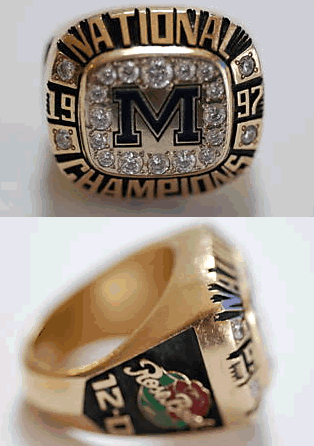 Ah yes, the 1998 Rose Bowl, what a week, what a game. [Sidenote: I arrived in Los Angeles a couple days before the game. I saw Morris Day and the Time at the House of Blues on 12/30, then I joined Run DMC at the Viper Room to ring in the New Year. I still have the T-shirt from the show, it was incredible].
As with the 1986 ring, the seller has offered a clue as to the original owner, but not much. From the auction description:
"..this is a players ring designed in 10k YG and is an original ring not a copy or reproduction. This ring was from a running back that actually saw playing time during the game. The ring is size 13 ish?"
As far as the owner of the ring, I'm not going to push this too far. I'll mention the disclaimer that I've been through before: there are a variety of ways things like this can end up on eBay (lost, stolen, sold by a relative/friend, & so on). You can't assume that player deliberately sold his ring on the auction site, let alone whether the ring is authentic.
I asked the seller for more details (waiting for a response) but based on the clue in the description I think we can narrow down the potential options of the original owner. If we exclude any running backs that could have seen game action but a) got in on offense but didn't register a carry, or b) played on special teams, it narrows the possibilities down to the following:
Chris Howard
Anthony Thomas
Clarence Williams
Chris Floyd
I think/hope we can cut the A-Train off this list; that'd leave Howard, Williams and Floyd. [Ed: Update 12/5 – The seller contacted me, thankfully it is none of these guys. Either the clue was wrong or my game facts were incorrect. ]
Seeing these rings on eBay is sad no matter what the circumstances. The seller is asking for an opening big of $3,600.