Next up in eBay Watch is a late 60s(?) era unique item-it's a program from some sort of reception or dinner for Fritz Crisler. This one is pretty cool as Crisler signed it for a gentleman named George writing, "To George, a grand person, Best Wishes all ways, Affectionately Fritz Crisler".
Here's the auction, with the current bid at $36.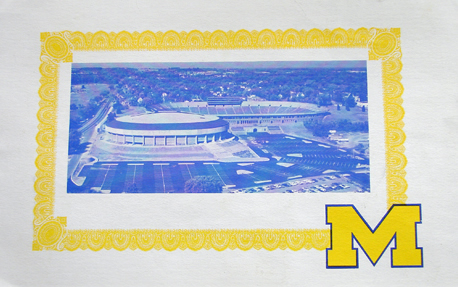 I say it probably dates to the late 60s as a photo of Crisler arena adorns the program and the facility wasn't completed in 1967. Here's more on Crisler arena from mgoblue.com:
Three years in the making at a cost of $7.2 million, Crisler Arena stands as a tribute to Herbert O. "Fritz" Crisler and his outstanding contributions to Michigan Athletics. Crisler, a Wolverine football coach for 10 years, served 27 years as the Michigan athletic director before retiring in 1968. Crisler Arena opened Dec. 2, 1967, with its formal dedication on Feb. 27, 1968.

Dan Dworsky, a linebacker on Crisler's undefeated 1947 and 1948 football teams, was the architect. The building stands at 107 feet with telescopic seating encircling the arena floor and bringing the total seating capacity to 13,751.
The program details the record of each of Crisler's 10 seasons and identifies the Toastmaster as Tom Harmon along with Bump Elliott. Check it out: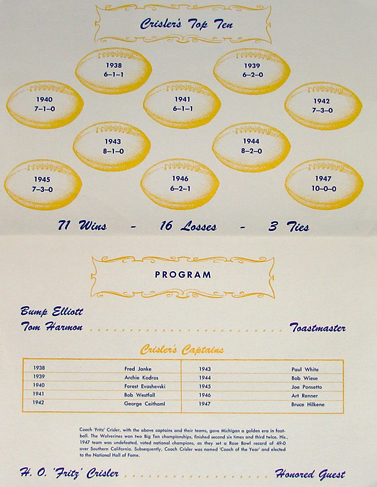 Pretty cool. For a few reasons I suspect this is some type of retirement party for Crisler. He retired as director of athletics in 1968 and this would have to date right around that period. With the arena being completed in late 1967 (and on the program) and with the event featuring Bump Elliott, it probably was '68. Not that Elliott couldn't have been at the event in a later year, but certainly Bo would have been mentioned on the program especially if this was held after 1969.
But it's not that long ago, if anyone knows the specific event let me know. The auction ends September 18.
Related:
From Now on, You'll be Fritz