[Ed. UPDATE 8/26:  I got a few responses on this, see below the magazine cover.]
Perhaps the shortest edition of eBay Watch ever featuring an auction of the inaugural issue of something called aMaize'n Blue, "The Magazine devoted to University of Michigan Athletics."  The cover features Anthony Carter making a cut up field and story remembering Bob Ufer who passed away in 1981.
Can anyone explain what this is?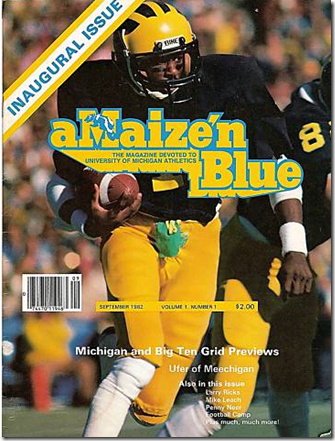 Current bid price is $1.99.
Update 8/26:  Ask and ye…
First from the comments, reader '98xjwolverine':
aMaizen Blue magazine was created by Larry Paladino, and was the spiritual predecessor to The Wolverine magazine, covering all Michigan varsity sports. There were monthly issues, plus weekly newsletters during football season. Originally launched as GoBlue (or MGoBlue) magazine in January 1979, it changed to aMaizen Blue in Sep 1982 (thus the "inaugural" cover). Unfortunately, after changing publishers at least once, the magazine folded in Winter 1984. Subscribers were not reimbursed for issues due, as I recall sending some letters trying to get my money back.
Thanks 98, appreciate that.   
Also, from writer John Kryk, author of the book that's required reading for Michigan and Notre Dame fans, Natural Enemies.  Kryk memory echoed that of 98xjwolveine, and added this detail on the weekly newsletter including an example:
…during the football season you'd get weekly game reports in newsletter form — just four pages on thick white stock (i,e, one long piece of thick paper, folded in half to get four 'pages').

[Attached] the four-page newsletter after the heartbreaking 1980 loss at Notre Dame.
Here's one of the pages of the newsletter that Kryk sent: