The second biggest unknown out there right now is where Michigan will end up this bowl season.   The Insight Bowl in Tempe seems likely, but the Gator Bowl isn't out of the question. 
Next up on eBay Watch is a piece of Michigan and Gator Bowl history–a watch which the seller claims once belonged to the great WR Anthony Carter (and thanks to reader Art for sending this over):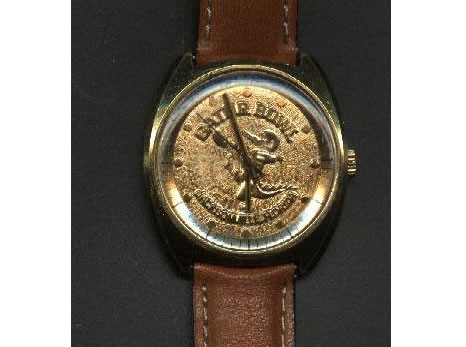 Does it say Jacksonville Honda at the bottom?
So who do we know this once belonged to AC?   It comes with this <cough, cough> very official looking document saying as much: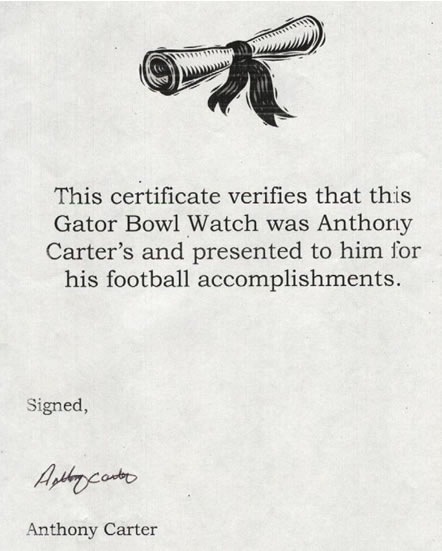 Does the clip art of the scroll at the top make this look more or less official?  
Anyway, I wouldn't be shocked if this did indeed belong to Carter.   Michigan lost a tight Gator Bowl to North Carolina but AC shined, hauling in 4 catches for 141 and two touchdowns. 
The difference was probably the crazed dawg donning the Carolina blue.  The Wolverines were up 9-0 when Lawrence Taylor knocked QB John Wangler out of the game.  B.J. Dickey replaced Wangs and connected with AC for a score with under two minutes to go, but they failed to convert on the two point conversion that would have tied the game.
1979 was an interesting year for Bo and crew.  All told they finished 8-4, dropping their final three games and finishing #18 in the land.   Speaking of that crew, Bo's assistants that season included Jack Harbaugh and Les Miles, and now this post just got 300% more clicks.  Justin Bieber was not born yet.  (400%).
The seller wants a whopping $2,125.00 for the watch or best offer, and I'm guess he'd be lucky to snare $300 for this.