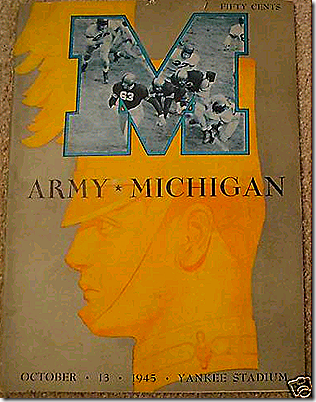 I believe this will conclude what's become Michigan vs. Army at Yankee stadium week on MVictors, but had to throw this up. 
Perhaps inspired by my posts on these games, a local seller has tossed up this beauty of a program up on eBay and is asking a measly 45 bucks (or best offer).  It's the program from the 1945 game in New York and it's got to be pretty rare. 
Collectors (I'm am not) might want to grab this one.  Unfortunately Michigan was smoked in each of these games so that might keep U-M memorabilia hounds away.
For more on the 1945 and 1950 battles againsts the Cadets at Yankee Stadium, click here. 
View the auction of the program here.