A very nice vintage postcard up on eBay now, apparently produced for the 1905 Michigan-Wisconsin game held November 18, 1905:   Sweet: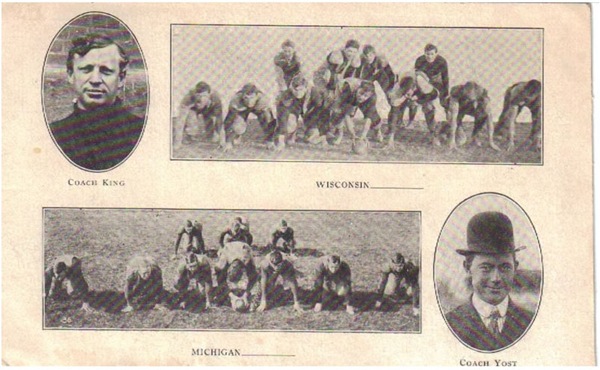 From scanning eBay listings for a few years I can tell you that from 1905-1909, postcards commemorating football games (and I supposed a lot of other stuff) were a big deal.  See?  See?  See?  Here's even the entire team.
I dig this one for a few reasons.  First of course is the classic shot of Yost in the bowler hat, but you've got to love the snaps of the teams lining up in formation—you just don't see that a lot.
There is significance to this hard fought 12-0 Michigan victory.  First, this was really the last real test for Yost and crew before the showdown with Chicago on Thanksgiving day, where Yost would suffer his first defeat.
The game also made headlines because <yikes> the Ferry Field temporary stands for the game collapsed and gave everyone a big scare.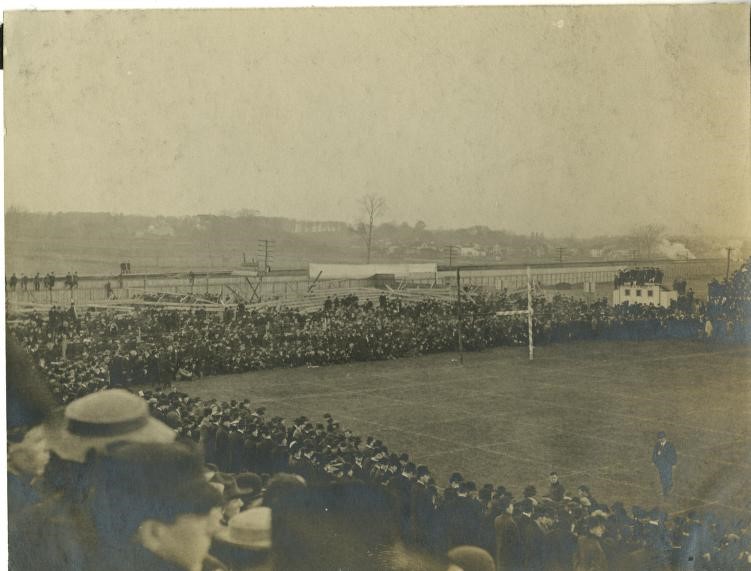 The players, trainers and rubbers hustled over to lend a hand.   New York Times:
It was actually the second time in just four years the stands collapsed at a Michigan-Wisconsin game, as a similar incident occurred in the 1902 tilt held at Marshall Field (HT: John Kryk).
An investigation was conducted immediately, with findings submitted in this report produced by C.J. Tilden to the dean of the School of Engineering.  Nutshell:  The designs for the temporary stands weren't reviewed nor was the structure properly inspected, and there wasn't proper support designed for old structure (the existing stands) to support the temporary stands.  When people started moving around the stands folded "like a deck of cards."
Bidding on the 1905 Postcard ends this weekend, currently at $9.99.
>> Follow MVictors on Twitter