Gotta love these old candid photos.   Here we have a wire photo currently up on eBay of the undefeated 1947 Michigan football, attending a Hollywood movie premier days before their Rose Bowl game against USC: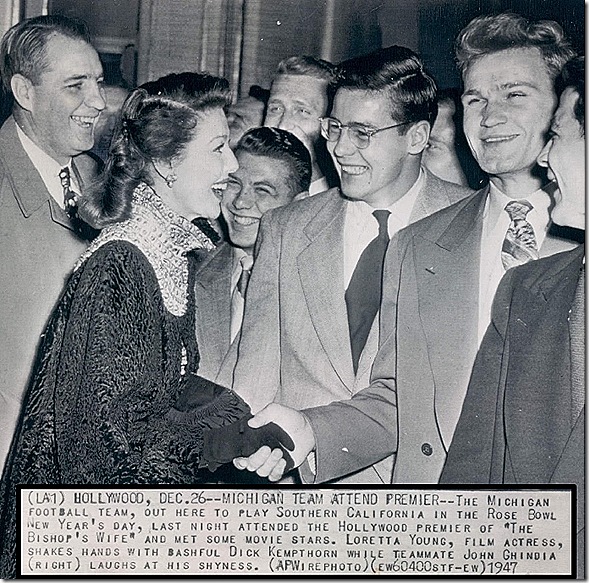 That knock-out broad?  That's Loretta Young, star of film and television from the 1930s and 1940s.  She's shaking hands with hard hitting Michigan fullback/linebacker Dick Kempthorn, who's confidence and skill on the field hadn't yet translated to his off-the-field interactions with the dames.
Reminds me of this shot of Tom Harmon with two actresses from 1941: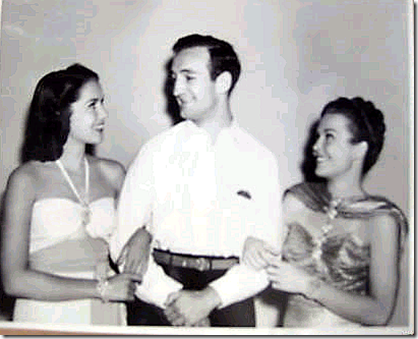 This uncomfortable greeting is about the most adversity the Wolverines faced during their trip to LA, as the Trojans didn't put up much of a fight in the Rose Bowl.  Michigan smoked Southern Cal 49-0 and prompted the AP to take a then-unprecedented postseason vote to name Fritz Crisler's crew the national champions.
As for Kempthorn, what an amazing guy.    A selection of stories/anecdotes sucked from his extensive Wikipedia entry, on and off the gridiron:
He transferred to Michigan after World War II and due to the transfer rules, couldn't play varsity in 1946.   He suited up for the practice squad, and during one scrimmage with regular team he laid out a couple playing, reportedly prompting Fritz Crisler demanded to the practice squad coach, "get that wild man out of there."
He was member of the 1947 and 1948 national champion teams, and MVP of the 1949 squad.
After his playing days were done, Kempthorn stayed on as an assistant to Bennie Oosterbaan.  Check

out this little nugget

of Wolverine lore, from one of the most famous games in Michigan-Ohio State history–

the Snow Bowl

:

Chuck Ortmann was Michigan's punter, and his fingers were becoming numb in the freezing weather. Kempthorn had purchased a new pair of pigskin gloves for the Ohio trip and gave them to Ortmann early in the game when Ortmann complained that his hands were getting numb. Ortmann later joked that they "were not masculine gloves but dainty tight fitting little numbers." But the gloves gave Ortmann a perfect grip on the ball. Ortmann noted that even though the gloves became soaked, "the wet ball stuck to them like glue." It was Ortmann's error-free punting that won the game for the Wolverines. Kempthorn's gloves, described in may articles as formal "junior prom" gloves, were credited with having won Michigan the game and a trip to the Rose Bowl.

I wonder if those gloves looked a bit like Loretta's?

I'm guessing Kempthorn could absorb some light ribbing about those gloves, given this next factoid.   He went onto serve as a jet pilot in the Korean War, flying over 100 missions along the way earning medals for doing things like saving the life of a fellow pilot, Henry Rock.  Wow(!):
After Rock's plane crashed on the runway, Kempthorn sprinted 200 yards to the crash scene, jumped on the wing and ripped loose the bullet-proof glass canopy. With Rock trapped by the gunsight as flames burned Rock's face and hands, Kempthorn took the gunsight in his bare hands and broke off the mounting. Shortly after Rock was freed, the plane exploded.Later he took over a series of auto dealerships in Canton, Ohio (still today?) , after turning down offers to play pro football.
What's a Michigan Man?   The Supreme Court would say you know one when you see one.  Kempthorn is a Michigan Man!
You can check out the full auction of the wire photo here.
Related:
1948 Rose Bowl and the title debate – Notre Dame or Michigan #1?
Honorary Captains, Miami OH game – Pete Elliott photo
Crisler Describes the Spinner – Fritz Book excerpt, diagrams
Rose Bowl Pics – Wire Photos from '48 Rose Bowl
Moose, Ox, and Whitey – The Wistert Brothers photo
The Snow Bowl – Rose bowl pic, Snow bowl