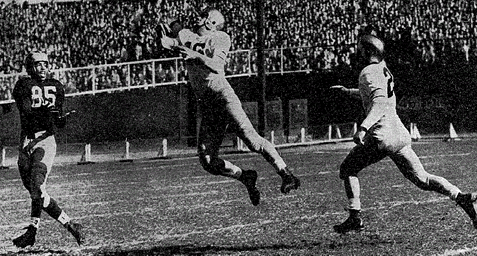 1950 was a special season in Michigan football history. Many M historians know this is the year that the Wolverines defeated Ohio State 9-3 in the epic Snow Bowl. That classic win earned the Blue a trip to Pasadena where they defeated Cal 14-6 on two late touchdowns.
All's well that ends well, but things didn't start well and included a trip to New York. The next edition of eBay Watch features this ticket stub from the Army-Michigan game held October 14, 1950 at Yankee Stadium: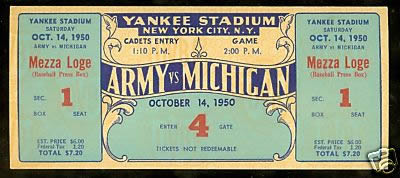 You can see the full auction here.
Army was riding a twenty-two game winning streak heading into the game and dropped the Wolverines 27-6 in front of 67,076 fans including General Dwight D. Eisenhower. Gazing soley at the boxscore you might have figured the Victors prevailed or at least kept the score respectable: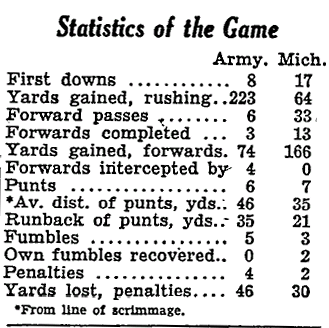 The New York Times commended the Wolverines effort that day and reported that Oosterbaan's men put a bit of a scare into the Black Knights, scoring early and threatening often. In the end Army was too tough, capitalizing when they needed to pull safely away. Army's streak eventually ended later that season in a 14-2 loss to Navy.
While the football squad took a bit of a beating in a hard fought battle, the Michigan Marching Band made a few headlines with a legendary performance on the historic field. Their effort earned a few inches in the Times post-game coverage: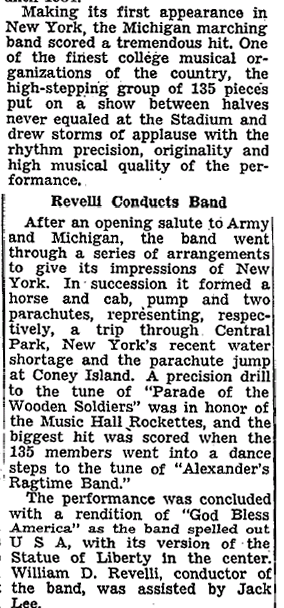 Brush away tear after reading that. My god, Revelli pulled out all the stops!
Other Notes:
* This was Michigan second trip to Yankee Stadium, the first was in 1945 also against Army. The Wolverines were defeated in a similar fashion 28-7.
* I actually made it out to Yankee stadium last week to check out the stadium before they move to the new digs, a photo for you from my seats featuring the captain and M man Jeter: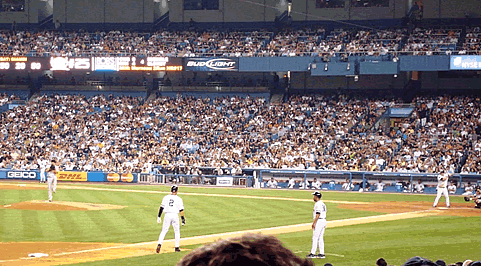 * They don't write like this anymore. From the New York Times, Tuesday January 2, 1951 on the Rose Bowl later that season:
A crowd of 89,939, basking in sunny but brisk ideal football weather, watched Bennie Oosterbann's indomitable Wolverines, indecisive winners of the 1950 Big Ten crown, cap the immolation of the Coast in the New Year interconference competition with their trouncing of Lynn Waldorkf's pigskin chasers.
Credits: The lead photo, boxscore and the Marching band summary were all from the October 15, 1950 edition of the New York Times, "Cadet Streak at 23".