eBay Watch is back, and starts with a program to the 1976 Navy game: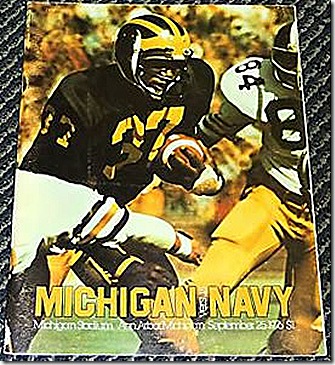 A selection of a few other Navy-Michigan programs from the U-M Bentley Library program database:

If you follow the eBay Watch series you'll know that I rarely feature common items like tickets or programs.   But this week there's good reason, as on Saturday from noon-3 WTKA 1050AM (and I assume WTKA.com) will be replaying the original Bob Ufer radio broadcast of the 1976 Navy game.  If you're cleaning out the garage or mowing the lawn I suggest you tune in.
Old 'Ufe practically wore out the scoring horn in this one, as #1 ranked Michigan put up 70 points on the Midshipmen, the most since 1905, and it's a radio call to remember.   Incredibly Bo's Wolverines actually trailed with just over a minute to go in the first half before taking the lead. 
In a span just over 5 minutes in the third quarter sophomore QB Ricky Leach accounted for four touchdowns, two on the ground and two in the air, and shortly thereafter Ufer nearly keeled over with excitement as he tended to do.  Based on the WTKA promos, after the 70th point Ufer likens the feat to "rolling into Berlin"!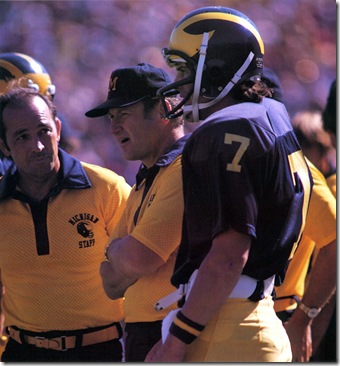 photo credit: sorry not sure, from the Steve Sapardanis archives 
A few props are in order here.  First, Ira and crew at WTKA for continuing this tradition.  Next, my pal and M history buff Steve Sapardanis of Guts 'n Glue for recommending they reair this game.  Finally, audio and video archivist Art Vuolo, Jr.,  [see his website Vuolo Video] for providing the audio of the Ufer call.
Note that this season was the 50th anniversary of the Navy-Michigan game held in Baltimore in 1926 which was covered in this episode of This Week in Michigan Football History a couple weeks back.  Yost was in his final season and he & the boys visited President Calvin Coolidge, the tomb of the Unknown Solider and battled Navy in Charm City.
You can bid on the auction of the 1976 program here, seller asking $14.99 or best offer.
Related:
* Where Ufer Laid Woody Hayes Away
* 1976 Orange Bowl Stub
* 1976 NCAA Finals Ticket Stub
* Another Rose Bowl ring auctioned
Follow MVictors on Twitter