It's time for short version of eBay Watch, this time taking you back to 1929 and the game between Michigan and Minnesota that season.  Up for auction is a medal attached to a pin, celebrating the November 16, 1929 homecoming battle that took place in Minneapolis.  Bidding started at $19.99.  Here's a look: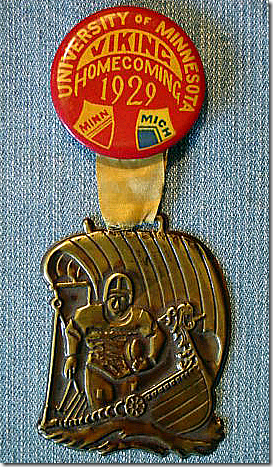 The piece features a football player, toting a pigskin while bursting out of a Viking ship battling some rough seas.   The rolling seas made a nice unintended metaphor for the times as the game was held a few weeks after the disastrous stock market crash of October 1929, the starting gun for the Great Depression.   I can't imagine many folks shelled out for trinkets like this during those tenuous days. 
Fast forwarding to 2009, you have to wonder if the current financial crisis will prevent anyone from bidding the $20 initial asking price for this beauty.   Perhaps this medal is bad karma like that taboo Tiki idol Bobby found when the Brady Bunch rocked Hawaii.
As far as the game itself, I touched on this earlier this year [see: Michigan Busted Bronko]:
The pinnacle of [Bronko] Nagurski's collegiate career was 1929 when he was named a consensus All-American. On November 16 of that season new coach Harry Kipke and the M men traveled to Minnesota and returned with the Little Brown Jug after edging the Gophers 7-6 in front of a homecoming crowd of 58,000. This was the only home loss suffered by any of Nagurski's Minnesota teams.
Related auctions:
1929 ad for Harvard fans to travel to the November 9, 1927 game in Ann Arbor (Michigan won, 14-12 in front of 85,000).  Again, you have to wonder how many folks from Cambridge actually made the trek.