Take a look at this wire photo from the 1938 Michigan-Ohio State game: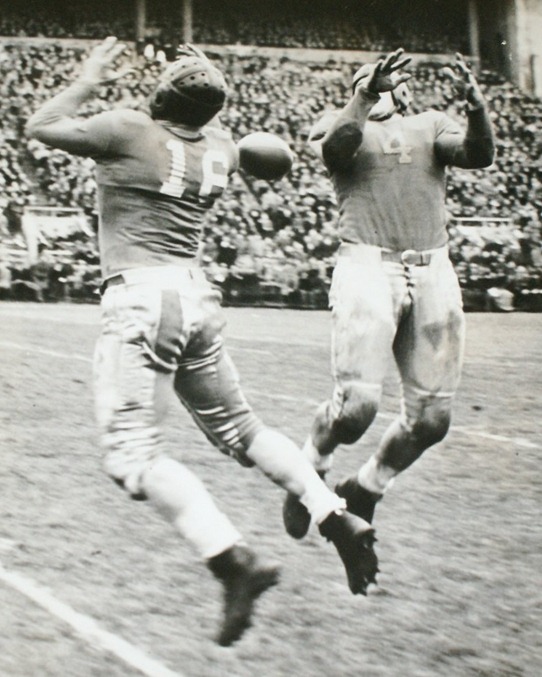 According to the caption those are two befuddled Buckeyes, namely Mike Kabealo (#16) and Jim Strausbaugh (#4), who opted to break out the Thriller dance instead of catching the pigskin during the November 19, 1938 season finale in Columbus.    Michigan cruised to a 18-0 victory.
1938 was special year in Michigan football history.  It was Fritz Crisler's first at the helm of the Wolverines and thus the debut of the coveted winged helmet.   Crisler was tasked with cleaning up the mess that Harry Kipke left behind and clean it up he did, leading the squad to a 6-1-1 finish.  The lone defeat was a 1 point setback to Minnesota and it would take Crisler a while to crack that Little Brown nut.
1938 also marked the debut of Tom Harmon on the varsity squad and this was the first season since OSU started the "gold pants" tradition in 1934 that a Buckeye team walked away without the precious charm.  
Related:
1937 – Fritz's Secret Practice -Pass to Princeton football practice
1938 – Harmon and Old Number..Six? – Tom Harmon wearing number 6
1938 – What a Woman! -Rose Queen holds 1901 team pic
1938 – Debut of Crisler's Winged Helmet -Helmet history
1939 – Tommy's the BMOC – Tom Harmon photo in classroom
1939 – Intrepidus, the Last Wolverine – Last visit of a live wolverine at game
1939 – Harmon Takes a Sip, Chicago Quits – Old 98 wire photo
1940 – The Drunk and Old 98 – Life magazine scene
Follow MVictors on Twitter  and  MVictors on Facebook