A quick edition of eBay Watch, looks like another Michigan championship ring up for auction, this time a 1990 Big Ten Championship Ring.  Here's a look:

A few notes:
Like most of these rings it's 10K gold.
It appears as though the stone is maize colored, the first time I can recalled seeing that.
Reads "Big Ten Champions" around the stone.
One side reads "Count On Me" which I take to be the team slogan that season, along with the score 35-3 below an alligator.  That of course is a nod to the 1991 Gator Bowl when Gary Moeller's men crushed Mississippi (Wolverine Historian YouTube).   That's the game the entire Michigan offensive line (Dean Dingman, Tom Dohring, Greg Skrepenak, Matt Elliott, Steve Everitt) was named the MVPs of the game.  Steve Everitt told the Ole Miss guy across him, "YOU LIKE THAT, HUH??" a record 17 times that day.
The other side features the player/coach name, a depiction of the Big House and their position/role on the team.
This one belonged to a coach named "Robinson".  There wasn't a major position coach on the team with that surname but the team photo does reveal a David Robinson, fourth from the right in the seventh row, probably supporting S&C or another group: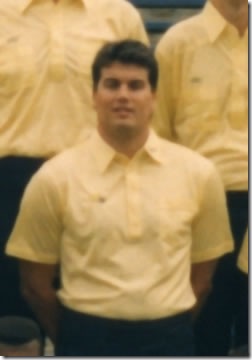 So…this probably was this man's ring.  Having featured a bunch of rings on this site, I'll insert the standard disclaimer here: don't assume anything about how or why this ring ended up on eBay.  It could have been lost, stolen, given to a friend or relative, lost in a poker game (damn!) or maybe Robinson was creeped out by alligators.
The seller is asking $1,999.00 (too much) for this beauty.  
P.S.  A big hat tip to reader Dan O. for pointing this auction out to me.  If you ever see anything in an attic or on eBay you think is pretty unique, give me a virtual jingle.
Other rings that have been up on eBay over the past couple years:
Follow MVictors on Twitter! and be the first to know.