When considering purchasing memorabilia on eBay you've got to be careful.  Often items are misrepresented and it takes a little research to get to the truth.  Some sellers are probably ignorant or were told something misleading when they originally acquired the piece.  Or…they are devious, crafting the ruse to inflate the sale price.
This edition of eBay Watch takes a look at two items that are not what the seller suggested.
1910s Wolverine Pennant?
The first fraud is a pennant, with the auction title claiming it was a "killer 1910's MICHIGAN WOLVERINES FOOTBALL PENNANT":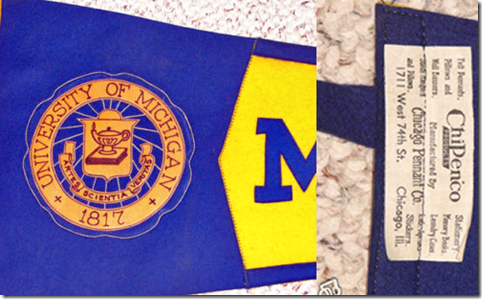 While it still might be "killer", it's definitely not from the 1910s as described.   The seller is apparently hanging the 1910s date on the fact that it "turned up in the same estate as the 1915 Michigan yearbook & 1915 Michigan commencement program."
So Encyclopedia Brown, do you know why this can't be from the 1910s?  Avid eBay Watch fans should know.
The key is the Michigan seal with the 1817 date.  As discussed in late March of this year, the university didn't use the 1817 date on the seal until the late 1920s, as prior to that the accepted founding date of the school was 1837.
While I don't know how that would impact the value of the pennant, bidders paid nearly $50.  I'm guessing the buyer was fooled by the bogus date.
Game Worn Cleats?
Next up, a seller recently claimed to have a pair of cleats game-worn by Michigan football star and co-captain Jarrod Bunch.  In 1991, Bunch was a first round draft pick for the NY Giants and has had a nice career as an actor in movies, TV and commercials  [Ed. hopefully more on Bunch later].
Here's the cleats, including Bunch's #32 written on the side: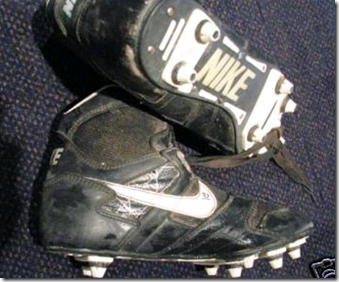 So why is this a fraud?  First off, the seller's description isn't exactly convincing:
University of Michigan game worn cleats, Cleats belonged to Jarrod Bunch. Jarrod was a four time letter winning fullback on Bo Schembechler's final teams. these are game worn and show it. They are Nike high tops.
But obviously that's not enough to debunk this so I went to the source, as in the guy who would have actually worn those cleats.   An email to Jarrod Bunch himself was returned with confirmation: "Those are not my cleats, I didn't wear high tops."
Case closed.
No one purchased the cleats when they were first up for auction.
Related:
eBay Watch: Tom Harmon says 'Vote Heston'