The next edition of eBay Watch takes a foray onto uncharted waters–Michigan wrestling. A pair of meet scorecards were offered up on the online auction site this past week, one from the February 14, 1931 battle against Ohio State, the next from a January 9, 1932 meet against the University of Toronto. Both were held at Yost Field House.
I couldn't find out what happened in the Ohio State meet but I'm guess the Victors prevailed as the Buckeyes don't have much of a wrestling program: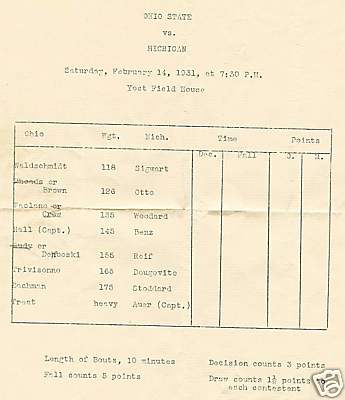 Based on what I can make out on the scorecard, Michigan shut-out the grapplin' Canucks 34-0:
Slotted to wrestle in the 165 class against the Buckeyes was a gent named Carl Dougovito. A year later Dougovito would cement his place in Michigan wrestling lore by slimming down a bit and claiming the NCAA championship in the 158-pound class [click here to see the full bracket]. By taking NCAAs he earned a photo up on the Bentley website and it's a real beauty, take a good look: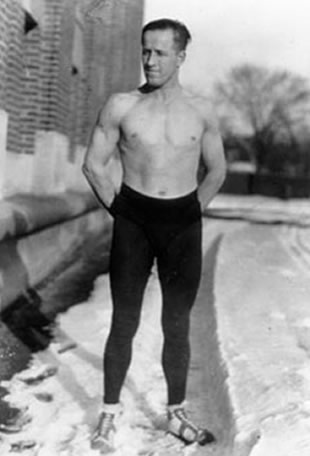 Bentley Library – Carl Dougovito is a man's man

The Bentley library actually makes a mistake there, as does a 2008 release from mgoblue.com. They each list Dougovito as 1932 NCAA champion in the 175 pound class, but it's pretty clear from the NCAA records that he indeed won in the 158 pound division. If you don't believe the bracket itself, believe Bruce Madej's book The Champions of the West, where it confirms that Dougovito shed a few pounds to compete and win at 158.
Dougovito took his talents to the U.S. Olympic trials and got completely screwed, having to settle on an alternate position on the 1932 US Olympic team. Again, from the Bentley Library:
At the U.S. trials, Dugovito had apparently earned first place at this weight with convincing wins in the semi-finals and finals. A check of the standings, however, revealed that under the scoring system in use, one of the semi-finals losers was still eligible for a wrestle back match. So thirty minutes after what he thought was the championship, Dugovito was forced to wrestle another match. An exhausted Dugovito fought Jack van Bebber to a draw, but lost his title on a referee's decision. Van Bebber easily won the gold medal in Los Angeles.
The auction closed Monday evening, the scorecards sold for a mere $2.99.
Related:
eBay Watch: The Fall of 1934
eBay Watch: 1933 and the Dickinson Formula
eBay Watch: 1933 MSC Ticket Application
Gerald Ford, Michigan Man
eBay Watch: Michigan Baseball Visits Japan (1932!)