For many of the legendary Michigan coaches and players, life after football has been pretty good. Some like Dan Dierdorf, Tom Harmon and Desmond Howard have ventured into the broadcast media, many others like Fielding Yost and Jamie Morris filled other roles within the athletic department. Of course Gerald Ford ended up in the White House.
Many former M Men wrote books about or related to their craft. Bo Schembechler hooked up with Mitch Albom and John Bacon to publish bestsellers. This installment of eBay watch takes a quick look at a few of the books out there:
Heisman Winner Tom Harmon: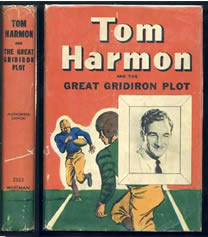 Harmon contributed to a few books but the one most widely seen on eBay is titled "Tom Harmon and the Great Gridiron Plot". I assume he had some hand in the book other than lending his name, but the official author is Jay Bender. At any given time there are a half dozen of these books for auction so I assume it was pretty popular. I can't find a full abstract or review on the book but I do see it was targeted for kids and I found this item description:
STORY OF TOM HARMON AND THE UNIVERSITY OF MICHIGAN TEAM WHO FIND THEMSELVES HAVING TO WIN THE CONFERENCE CHAMPIONSHIP OR THEIR COACH WILL BE DISMISSED
Shocking stuff for the time perhaps. These days it seems a couple dozen coaches a year need to win a championship to avoid being "dismissed".
Former Coach Fielding H. Yost: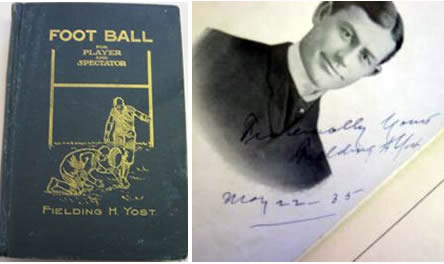 Yost put pen to paper in his days as coach and after, producing many magazine articles and a book titled, "Foot Ball for Player and Spectator" first published in 1905. There's currently a first edition on eBay (highest bid $500 so far) that was signed in 1935 by Yost, who remained active at the University after his coaching days. The book is now in the US public domain as it was published prior to 1923, you can read the entire thing on Google Books here. Yost goes through a variety of topics, starting with the history of football and running through formations, plays, rules and there's some pretty cool old photos inside.
Former Coach Fritz Crisler: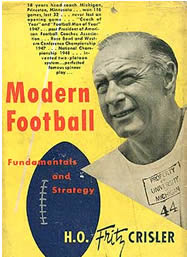 Finally the architect of the Mad Magicians and coaching Legend Fritz Crisler published his own thoughts on the game with "Modern Football: Fundamentals and Strategy" in 1949. This work goes through Crisler's theories of offense and defense. It might be interesting given his role at the helm of the amazing Mad Magicians [YouTube].
The Bentley Library keeps a listing of books on or related to Michigan football here. Would have loved to have seen Yost, Crisler and Bump Elliott collaborate on a book titled "Fielding, Herbert and Chalmers: Overcoming Unfortunate first names".