This edition of eBay Watch takes a look at this 1939 wire photo of Michigan's Grand Old Man looking at a team photo of his dominant 1901 squad.  Yost is pointing to the great Willie Heston but it's not clear why: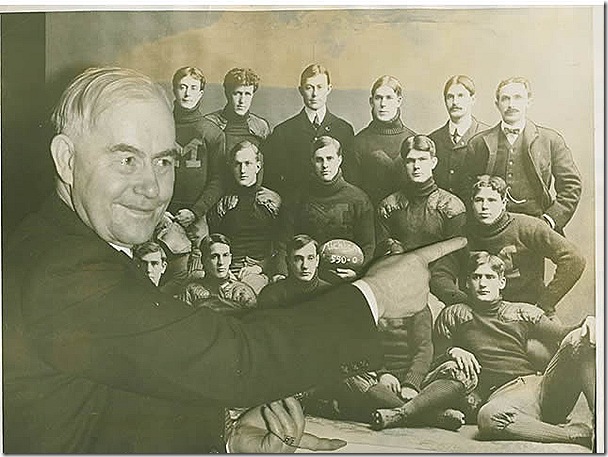 Believe it or not, this isn't the first time a wire shot has shown up on eBay featuring someone holding a photo of Yost's dominant 1901 squad.   Back in March I did a short post on a Rose Bowl beauty queen from 1938 holding a large photo of the point-a-minute squad: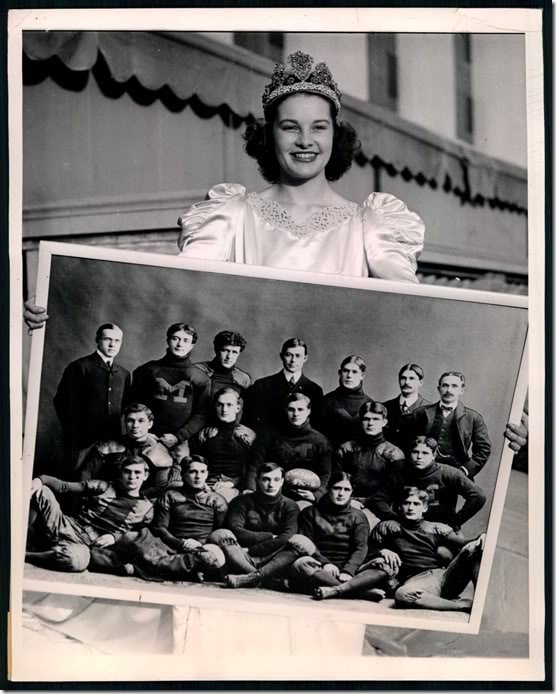 Here's one thing I didn't notice in that March post.  In the team pic featured in the wire photo of the beauty queen and in today's auction with Yost, the writing on the ball held by captain Hugh White reads "550-0".  
But in the official team photo (obviously the original) at the Bentley Library page for the '01 squad, that ball reads "501-0" (right):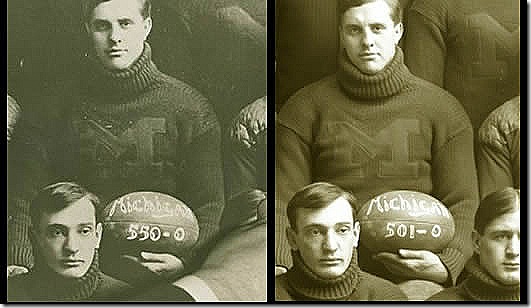 Back in the those days the team gathered for the team photo after the season, to not only take the picture but also to select the captain of next year's team.   Michigan was undefeated and outscored its opposition by the 501 to nothing margin—at least up to that point.  
So they snapped the photo but they had one more game to play that year and which was the inaugural Rose Bowl against Stanford.  Michigan pounded the Cardinal 49-0 in that historic bowl game held January 1, 1902, making the grand total for the year 550-0. 
So in a early 1900s version of photoshop, someone grabbed a white pen, carefully matched the font style and updated the tally on the ball!  I love it. 
The seller is asking $200.00 or best offer for the Yost photo.
Related:
1900 – How about Willie Heston? – Willie Heston history, Yost
1901 Season Football Pass – Season pass to Yost's inaugural
Rah-Rah-Rah Rose Bowl Rout – First Rose Bowl pin?
1902 – Some Vintage Rose Bowl Cheer – Entire team in Rose Parade