I always like to check out the old letters that pop up on eBay for stuff just like this.  Back in 1962 then-athletic director Fritz Crisler submitted a story to Reader's Digest on his college coach and mentor, Chicago legend Amos Alonzo Stagg.  [As an aside, there's a copy of the story at the Bentley Library in Crisler's archives and I plan to check it out.]
Fritz clearly had deep admiration for his former coach.  Heck, Sports Illustrated, in its wonderful 1964 piece on Crisler  'The Man Who Changed Football' even suggested the '1' in the Michigan Stadium attendance might actually be reserved for Stagg!:
It was his secret. But anyone is entitled to guess, and one guess might be that somewhere in that vast stadium there is this one seat, and perhaps it is never sold. Perhaps it is reserved, now and forever, for someone who taught Fritz Crisler a way of coaching football and a way of life. For the Old Man, Amos Alonzo Stagg.
So coupling Crisler's demeanor, his air-tight professionalism and his admiration for his mentor I'm guessing Fritz put a lot of thought into the words he chose for this story for Reader's Digest.  So what could go wrong?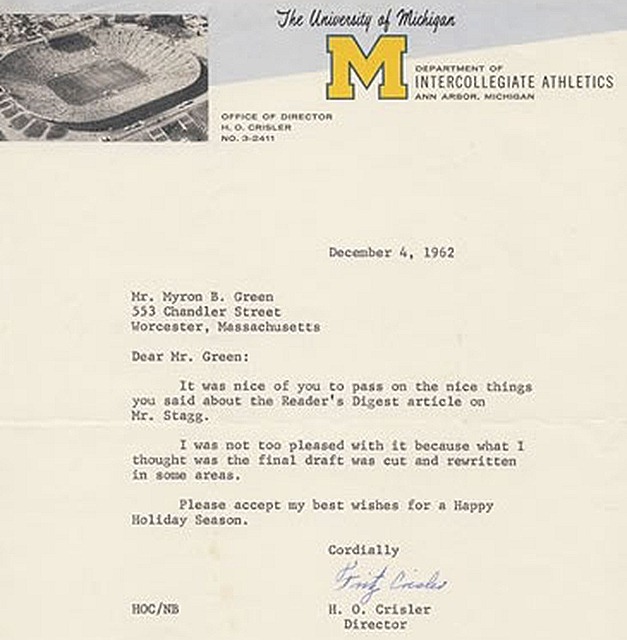 Well thanks to Mr. Myron Green of Worcester, Mass, we know that Crisler was none-too-happy with what happened after he submitted his story to the popular magazine.   Green wrote Crisler apparently commending him on the piece, but in his reply (above) Fritz revealed that Reader's Digest messed with this draft (and even rewrote some of it) without his sign off.    Ugh.
I'm guessing the folks at RD got more than an earful from the ol' Fritz.
The seller is asking a cool $399.00 (yeesh) or best offer for the original letter. 
Related:
I can't wait for John Kryk's book on Stagg and Yost, still in the works.  If you haven't, order your copy of Hail to the Victors 2012.  Kryk's piece on Yost, which includes pieces from the upcoming book, is worth the price of the mag.