Most Michigan fans know that Fritz Crisler made his way to Ann Arbor from Princeton after he turned around the Tigers' football program.  This edition of eBay Watch looks at a special pass issued by Crisler himself, allowing the holder to visit the "secret" football practice from 1937.   It's signed by the coach himself and is quite a beauty: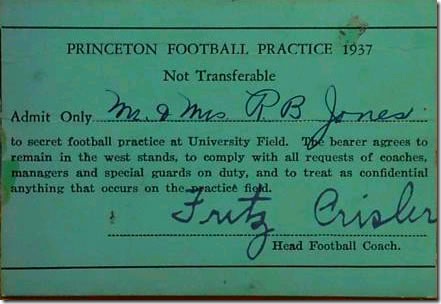 It is issued to a Mr. and Mrs. R.B. Jones and reads:
"Admit only (Mr. and Mrs. R.B. Jones) to secret football practice at University Field.  The bearer agrees to remain in the west stands, to comply with all requests of coaches, managers and special guards on duty, and to treat as confidential anything that occurs on the practice field."     –Fritz Crisler  Head Football Coach
This has got to be a one-of-a-kind item and we know that Crisler didn't issue too many more of these at Princeton.  1937 was Fritz's last in New Jersey, agreeing to replace Harry Kipke in Ann Arbor in 1938 and taking the famed winged helmet design with him.
The seller is asking $50 for an opening bid for the auction which ends September 17.
UPDATE 9/17:  Screw it, I bought it for $50.  I really don't collect much of this kind of thing unless there's something (relatively) cheap and unique. 
Related eBay Watch posts on Crisler
"I thought Crisler was a Violin Player" (1932)
Debut of Crisler's Winged Helmet (1938)
Chasing Blanchard & Davis (1945)
Coaching Legends in Atlantic City (1957)
From now on, You'll be Fritz (1964)
Affectionately, Fritz Crisler (1968)