While Wolverine fans tend to toss any great individual performance that occurred during a loss in the circular file, there are a few that stand out.  One of those is tailback Jon Vaughn's 201-yard rushing performance in Gary Moeller's coaching debut, a thrilling 28-24 loss in South Bend in 1990. 
Thanks to eBay, we now also know that Vaughn had a little more than game film and the occasional ache/pain to remember that great effort.  Evidently Vaughn was the game's 'Offensive Hustler':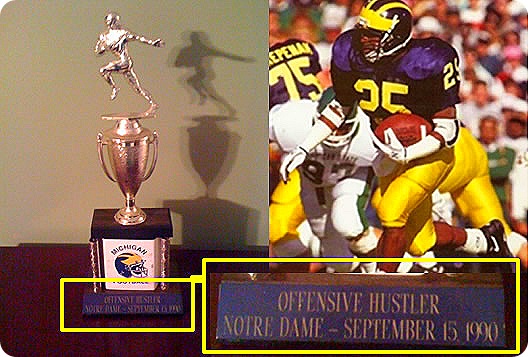 Yes, apparently Coach Mo not only dealt out helmet stickers, he also handed out Little League second place trophies for individual efforts.  Per the auction description:
Very rare one of a kind John [sic] Vaughn offensive hustler award for the game on sep 15 1990 vs the notre dame fighting irish. The trophy stand approx 14 inches high. The trophy does have some wear in areas. Please note that this trophy does not specifically mention his name. However i just recently purchased a memoribilia [sic] grouping from John [sic] Vaughn.
Vaughn earned more prestigious honors at the end of the season, particular co-Big Ten Offensive Player of the Year.   Against Moeller's advice, Vaughn bolted to the NFL after the season and had a short career in the bigs. 
Other Hustlers eBay
Here's a couple other guys who deserved the distinction of Michigan's offensive hustler, call it a Hustler lifetime achievement award.  
Let's start with the great Bob Chappuis, here featured in this incredible photo currently up for bid.  He's leaping over Michigan State's Lynn Chandnois (or Jaws for James Bond) and both men signed the shot, very cool: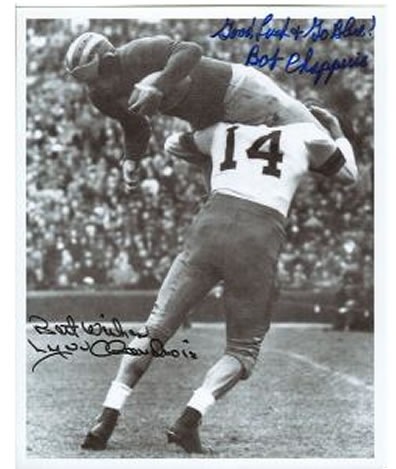 There's always a bunch of cool stuff featuring all-time Hustler Tom Harmon, but this one was pretty nice.  It's some sort of card featuring a photo of Harmon on the front with 98's career stats on the back: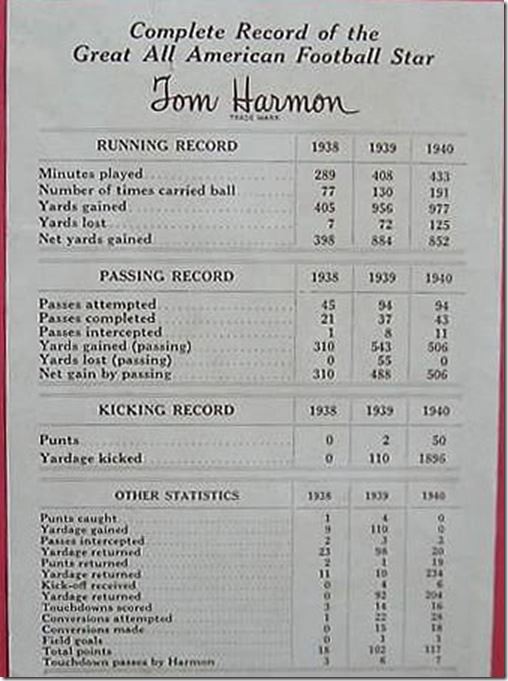 I don't know if you can read that, but one thing stuck out–Harmon attempted 94 passes in 1940 and had 11 picked off.  Yikes.  That of course didn't stop Harmon from taking home the ultimate college football Hustler award. 
Finally, this photo deserves a good home.  It's 1920s revolutionary Wolverine footballer Benny Friedman on the sidelines from 1939:
This was more than a decade since his days in Ann Arbor, and at the time he coached at City College of New York (some folks wanted him to return to Ann Arbor to replace Harry Kipke).  As noted in the wire photo caption, he also strapped on the helmet for a local pro team named, naturally, the Wolverines.   From Murray Greenberg's Passing Game: Benny Friedman and the Transformation of Football: