It's Friday and the NCAA Hockey playoffs commence today.  Michigan of course gets into it against Bemidji State tomorrow night in Fort Fun.   By now we all know the story of the Wolverines' heroic run into the postseason and readers of the Wall Street Journal even got clued in today.
While the improbable run got started at home against Lake State, the first sign that something special might be afoot occurred up in East Lansing, when mobs of Wolverine fans took over Munn and watched the Blue sweep the Spartans out of the tournament and ended MSU's season. 
Here's a chance to take something else out of Munn, check out this 1989 CCHA play-off Champion banner up for auction for a mere $4,000: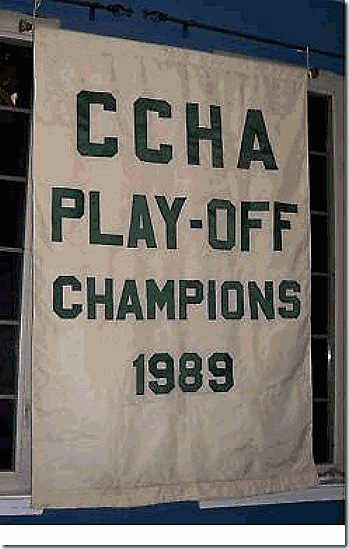 The auction ends April 1st.  I'm not sure what you'd do with the banner, but for $4,000 I'm guessing you can do much better.  It's certainly a cool item for a Spartan fan's man cave but paying anything over $300 seems like a stretch.  (Heck, for 4 large you could probably hire Ryan Miller come to your house…and fire tape-ball wristers at him in your basement for a few hours).