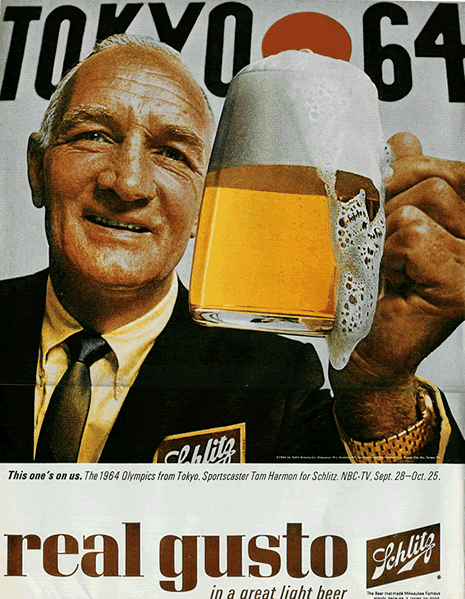 An Olympic version of eBay Watch, this time an ad from Life magazine in the days leading up to the 1964 Tokyo Summer Olympics featuring Michigan Heisman trophy winner Tom Harmon. Old 98 is featured as an NBC broadcaster who likes his Schlitz beer with a little extra gusto.
Somewhere in our nation's history the words "gusto" and "beer" became forever tied and perhaps this was the beginning of this beautiful union. The ad sold for a mere $3 this past February on the auction site.
Harmon follows a long history of Michigan athletes and coaches tied to the games, look no further than the Sports Illustrated 2008 Beijing Olympic preview on your newsstand to see a familiar face around campus: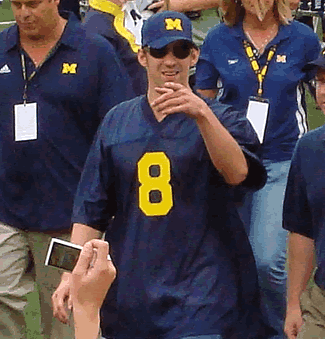 The University had a healthy representation in the 1964 Tokyo games. According to the Bentley Historical Library, U-M placed athletes on teams representing NINE countries.  Collectively they brought home 7 medals: 3 golds, 1 silver and 3 bronze.
An interesting note, the Michigan contingent almost didn't have to travel very far for these games. It turns out Detroit was the United States' entry into the IOC site bidding process for the 1964 Olympics, finishing second in the voting behind Tokyo.
Related:
eBay Watch: Old 98's Son faces Michigan, MSU
eBay Watch: The Drunk and Old 98 – [I'm working on a remastered special edition of this incident.]
Tom Harmon items on eBay
.