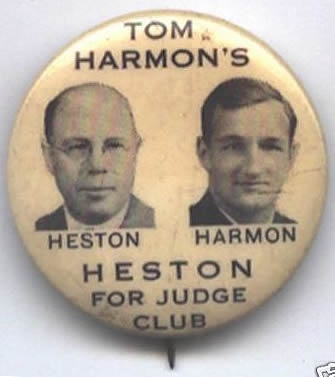 A quick installment of
eBay Watch
for you. A truly unique item this time. Someone dug up some type of campaign pin touting Heisman Trophy winner Tom Harmon and his club's support for "Heston for Judge".
In the auction, the candidate is described to be the wonderful Willie Heston, arguably the greatest Michigan player and likely its all time leading rusher. Speedy Will of course anchored Fielding Yost's point-a-minute team of the early 1900s. He actually never stepped foot into a game where Michigan lost as his teams had a record of 43-0-1.
The pin sold for over $102.99 when the auction closed, as many bidders were convinced the man pictured on the pin was indeed the Michigan legend. I assume this pin was printed sometime after Harmon left Michigan (he won the Heisman in 1940) as I doubt you were allowed to promote political candidates while you were a student.
Heston's bio on mgoblue.com mentions his law career but claims in ended in the 20s as he moved onto darker pastures:
Heston received his degree from the Law Department in 1904 and after coaching stints at Drake and North Carolina, set up law practice in Detroit in 1908. He was a Wayne County assistant prosecuting attorney from 1911-1916 and later served as Recorders Court judge, 1916-1923. After stepping down from the bench, Heston entered the real estate business and later established a cemetery in Flat Rock, Michigan.
There were a few Hestons associated with the Michigan football program over the years that I know of, probably more that I don't. Willie Heston's son (also named William) played on the 1930 Wolverines and would have been somewhere in his 30s depending on when this pin was pressed.   His old man was born in 1878 and would have been in his mid-sixties. Here they are together thanks to the Bentley Library: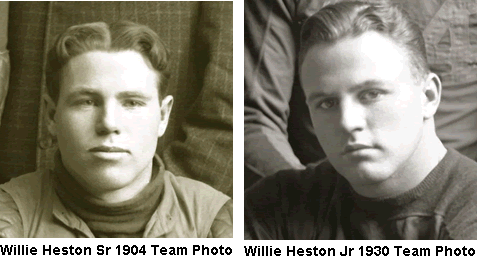 Heston's other son John (went by Jack) played on the '31 and was a member of, and scored a TD for, the 1932 national championship team.
We also know that Judge Heston hung around the program a bit, recall he signed the program from the 1954 football bust that was featured on this site not too long ago. Further collaborating if not cementing that this was the famous Heston is this site which has records of all political campaigns and nominations. A quick search yielded this info:
Heston, William M. — of Detroit, Wayne County, Mich. Recorder's court judge in Michigan, 1920-23; candidate for circuit judge in Michigan 3rd Circuit, 1941.
So, it looks like he was making another run at the bench but even the great Tom Harmon couldn't help get him back. According to the same site, Heston was defeated on April 7, 1941 and never made a run at a judge position again.
UPDATE: Heston wasn't the last Wolverine judge, lest we forget!