Love this wire photo and had to feature it on eBay Watch.  It's Old 98 Tom Harmon on the sideline grabbing a drink and no, it wasn't from a Gatorade jug or even from a cup.  It's 1939 and you got your drink from a ladle dipped from a trough LIKE A MAN: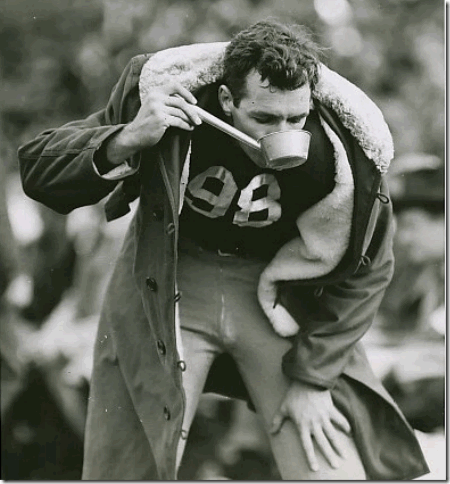 This was shot during the game against once great rival Chicago in 1939, a game which Michigan won 85-0 in front of a sparse crowd of 5,000, no doubt mostly Michigan fans.  The hapless Maroons were pummeled all season, losing to Ohio State 61-0, Illinois 47-0, Harvard 61-0, Virginia 47-0 and were even shut-out by tiny Beloit College 6-0.
Those are the kind of beat downs that force you to think about the direction of a program, and the Maroons did some hard, hard thinking after the 1939 season concluded.   In December it was announced the once-splendid Chicago (decades earlier led by the great Amos Alonzo Stagg, the first man to defeat a Fielding Yost-led Wolverine team) would no longer field an intercollegiate football team.  Chicago was Michigan's first true rival and the 1898 Blue victory in the Windy City inspired Louis Elbel to write The Victors, in turn inspiring a blogger to name his website MVictors.
Complete withdrawal from the conference for the rest of Chicago sports teams soon followed.
The auction of the Harmon photo, sipping a cool drink, ends April 12th.
Follow MVictors on Twitter !
Related, the Entire Harmon eBay Watch Portfolio:
The Drunk and Old 98 <—probably the most regularly viewed post on this site
Tommy's the BMOC
Harmon and Old Number..Six?
Tom Harmon says 'Vote Heston'
Harmon Jitterbugs with Joan & Jinx <—98 with classy dames
Harmon Goes for the Gusto
Old 98's Son Faces Michigan, MSU <—Actor Mark Harmon and ties to the old man