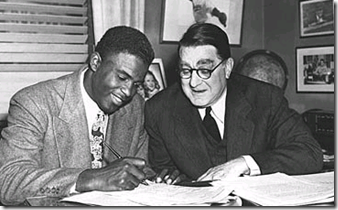 Yesterday the official U-M site mgoblue.com announced the election of former Michigan baseball coach Branch Rickey to the college baseball Hall of Fame.  Rickey is best known for his role in breaking baseball's color barrier by bringing Jackie Robinson to the Dodgers while he was the team's general manager.  From mgoblue:
Rickey, who coached the Wolverines from 1910-1913 while attending the Michigan Law School and compiled a 68-32-4 record, is the Hall of Fame Vintage-Era inductee. The Vintage-Era designation is for those who played or coached prior to 1947.

Rickey's college experience influenced his role in promoting Jackie Robinson to break the color barrier years later as general manager of the Brooklyn Dodgers. Rickey is also known for the development of the farm system and the introduction of the batting helmet. Rickey's professional career saw him lead the St. Louis Cardinals in the 1920s and 1930s, the Brooklyn Dodgers in the 1940s and the Pittsburgh Pirates in the 1950s. He was inducted into the Baseball Hall of Fame in 1967 as a Pioneer and Executive.
Due to his role in this historic event and his place in Cooperstown, Rickey memorabilia is quite valuable and you'll find it constantly being peddled on eBay.   One interesting item up right now (with a steep asking price of $1,995) is a program from a 1947 banquet honoring Ohio State athletic director L.W. St. John.  An attendee fetched the signatures of Rickey, St. John, legendary coach Fritz Crisler, and one of the Notre Dame Four Horseman, Harry Stuhldreher.   Here's a snap of the autographs from the auction:
As mentioned above, Rickey coached the Wolverine baseball squad from 1910-1913, and signed on for his first season on January 14, 1910.   How do I know that?  I stubbed my toe on Rickey's actual contract for that season while doing some research on the 1909 football season at the great U-M Bentley Library.  Here's how his signature looked 37 years earlier:
In the photo of Rickey and Jackie Robinson that led this post you might notice the stack of papers on the GM's desk that probably represented various sections of Robinson's contract.  Here's Rickey's paperwork for the Michigan gig, nice and clean and just a single page (watermark added by me):
Rickey was paid $700 for the season which ended June 4th, assuming he didn't bring on any assistants (if he did, he could lose $100 off the top).   For comparison, Fielding Yost also signed a contract around the same time worth $4,000/year for the 1910 and 1911 seasons.  Rickey also had to agree to "not play professional baseball with any team while coaching.."
I'm sure I'll have more on Rickey in days to come.  Here's a complete listing of Branch Rickey items on eBay.