Check out this fine piece of U-M football memorabilia* up on eBay right now.  It's a '72 Rose Bowl watch apparently once belonging to Wolverine back "Easy Ed" Shuttlesworth: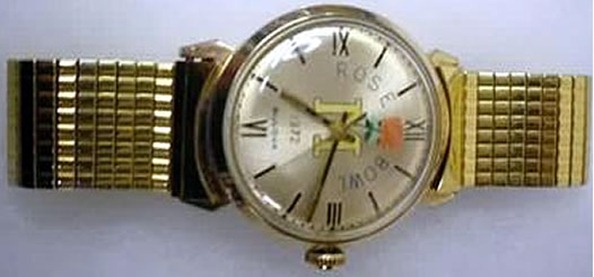 The 1971 Wolverines were certainly one of Bo's finest, rolling through the regular season 10-0 before dropping a 13-12 heartbreaker to Stanford in Pasadena.   Shuttlesworth had a fine U-M career as the Cincinnati native ran for over 2300 career yards and scored 26 touchdowns, averaging 4.4 yards per carry.    After his U-M career Easy Ed played a couple years in the CFL for the Toronto Argonauts.
Shuttlesworth isn't the only former U-M player to have some jewelry up on eBay.   There's also another watch and a ring, these said to have belonged to former LB Scott McClintock*.  
Here's the watch, something given in honor of his "2nd Year Letter" ?: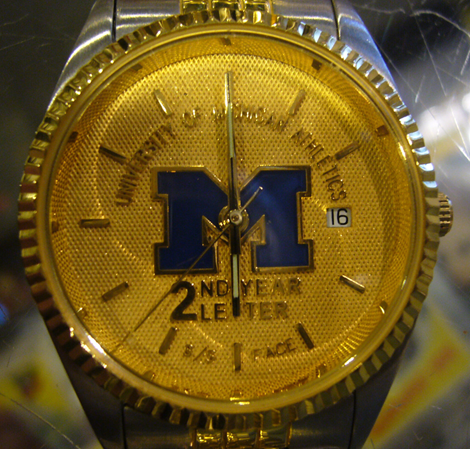 McClintock's ring is from the 2003 Outback Bowl: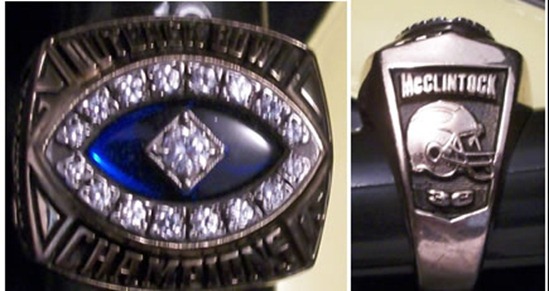 Ahh, I still have fond memories of the old 2003 Outback Bowl.  Ron Zook's decision to have freshman Vernell Brown toss a pass on the reserve as Rex Grossman was driving the Gators down the field was an all-time classic turd call.  U-M's Victor Hobson picked off the "pass" to seal the win for the Blue and avoid a once-horrifying four-loss season.  Here's how it looked, thanks to WH.
*Disclaimer:  I don't know how or why these items ended up on eBay and don't really care.  My $.02:  Don't worry about it.