This week's eBay Watch takes a look at an illustration from a 1932 newspaper featuring future Michigan head coach Fritz Crisler: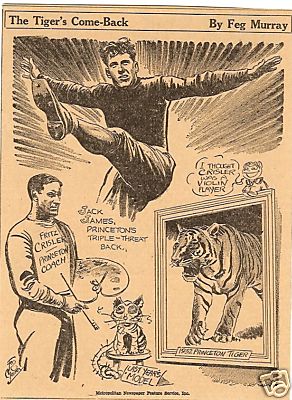 Crisler is depicted giving an overhaul to "last year's model" of a Princeton Tiger, trying to repaint the frightened kitty in the likeness of a ferocious feline.    The disheveled subject was a fitting representation of the 1931 Princeton squad who finished 1-7.   Fritz was brought in to fix the mess and he quickly did just that.   Over the next six seasons he went 35-9-5, claiming national titles in 1933 and '35.   The run ended when Fielding Yost lured him away from New Jersey to replace Harry Kipke in Ann Arbor.
Early visit to Ann Arbor
In the upcoming season, probably weeks after this cartoon was published, Crisler actually visited the town where he'd cement his legacy.   On October 29, 1932, Kipke, Harry Newman and crew defeated the Tigers 14-7 in front of 26,000 homecoming fans.   Perhaps Crisler liked the digs.   The Victors would go on to take the national championship that season and the next.
For those reading closely you noticed that Princeton also claims the national title in 1933.  The most widely accepted method of determining the champ was the Dickinson Formula [more on this here].  Michigan earned the most points in '33 and was awarded the Knute Rockne Trophy.  Despite being undefeated the Tigers received scant love from the Formula, finishing seventh in the calculation after facing what was perceived to be a softer schedule.
The Violinist
Above painting of the tough tiger in the cartoon, you many have noticed the character admitting, "I thought Crisler was a violin player".    Well, so did Fritz's mentor, the great Amos Alonzo Stagg of Chicago.  In this February 1964 Sports Illustrated article, we learn how Stagg gave young Herbert Orin a named that would stick:
Coach [Amos Alonzo] Stagg fastened the nickname of 'Fritz' on him after he had fumbled three times in a row.   Stagg made the sarcastic point that there was a violinist, a great artist, who spelled his name Kreisler.   He said he was naming Crisler Fritz because he bore absolutely no resemblance to Fritz Kreisler, the artist.
The auction ends Friday, and currently has no bidders.
Related: