There's much talk lately on the noise created by the Michigan fan base during games, especially now that the new structures are up and enclosed on the east and west sides of the Big House.  It makes this edition of eBay Watch apropos.
It's the auction of a "1900's" era paper megaphone, outfitted with the words to Varsity, The Yellow and Blue, and the chorus to The Victors.  It's not quite in tip-top shape (perhaps one of Zoltan's ancestors rolled on top of it), but it's still pretty cool: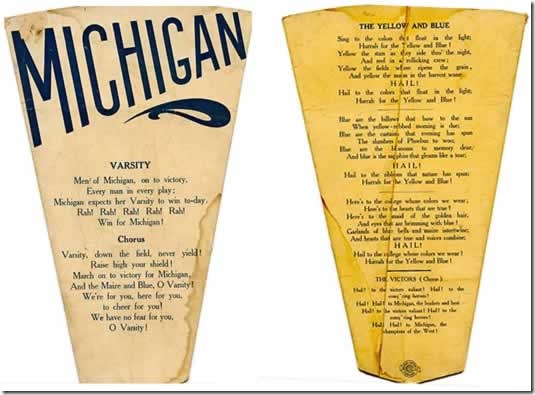 The auction description came up with the 1900's date, which some might believe suggests this is from the first decade in the century.  Well, the earliest this beauty can date is of course to the timing of the last composed.  From reading these pages you know the story of the origins of Elbel's The Victors in 1898 and of Varsity in 1911.  A brief browse on the U-M Bentley Library website puts the origins of The Yellow and Blue at 1889.  Plugging all this into pivot table tells me the earliest this could date to is 1911, and more likely later on after the song was better established.  I'll call it 1920s-ish.
The description all calls it a "University of Michigan Football Cheerleader Megaphone", but this thing isn't anything a cheerleader would be raising up—this was something that was used by the fans.  
The Hail: Here's an interesting takeaway.  I always figured The Yellow and Blue was an old song, if nothing else by virtue of the song title and lyrics going with "Yellow" instead of Maize.  98% of Wolverine fans know and sing but a single word in the tune: "HAIL!", which is emphasized on the megaphone:

So…I guess I always thought that was some kind of salute to the beloved chorus of The Victors, but this can't be given The Yellow and Blue was composed nearly a decade prior.  If anything, it's the other way around providing (even more) inspiration for Elbel. 
The bidding starts at $49 for the auction that ends September 15.