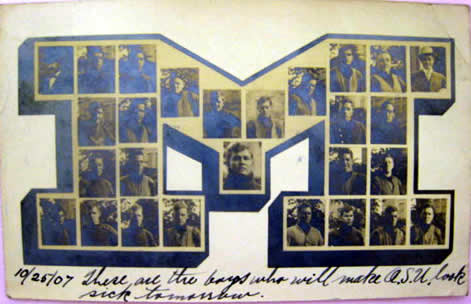 A quick edition of eBay Watch, this time featuring a century old postcard depicting the faces of each member of Fielding Yost's 1907 Michigan football squad. Here's the full auction; it's listed for a take it over leave it price of $325. What just might make this worth it? The original owner scribbled this note on the front, "10/25/07 These are the boys who will make O.S.U. look sick on Saturday."
It's unknown if the Wolverines made the Buckeyes ill, but they did shut out OSU 22-0 the next day, October 26, 1907 in front of 7,000 fans.
Someone was quite busy in the Wolverine postcard trade in 1907, and you might recall this site featured the eBay listing for a set of 15 individual player postcards that sold for over $1360.
More on that season (from previous post):
1907 was Fielding Yost's seventh at the helm of the Wolverines, and it was a fine year. Featuring All-American Schultz, the blue were not scored upon in the first five games of the season while running up 107 points. This set up the showdown with eastern power Penn who visited Ann Arbor on November 16th. The volume of memorabilia available for a game that was played 100 years ago is a good indication of the games' significance, and there's quite a bit out there for this one: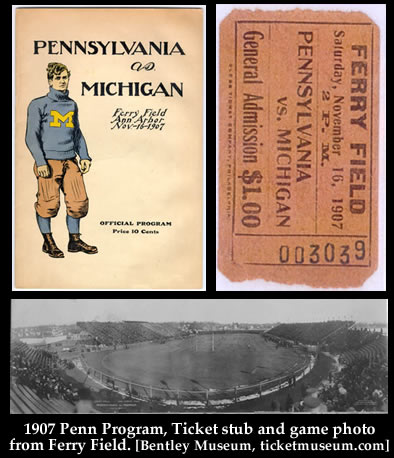 The hard fought battle ended with Penn escaping with a 6-0 win, after they carried an onside kick into the endzone. You can read an excellent summary of the game from the New York Times here. Both teams had touchdowns that were taken back due to "illegalities".
It sounds like Yost pulled out all the stops as his Meechigan men even attempted (and completed) a "triangular forward pass". As described by the Times:
Schultz passed the ball back to Watkins, who threw it over to Magoffin, drawing the Pennsylvania team to that side, and the Michigan Captain then passed it to Hammond, who advanced it 20 yards.
More factoids from the Penn game:
– The 6-0 defeat was Michigan's first ever loss at home.
– According to Bruce Madej's book Champions of the West, the Penn game marked the introduction of the Block M formation:
The large block "M" was formed in the cheering sections by 750 yellow and 1250 blue banners, sold to spectators at the cost of 25 cents each. Said the Michigan Daily in its November 17, 1907 edition, "Probably no more beautiful feature was ever seen at a football game than the block "M" section. At a signal from the yellmaster, the black mass of humanity on the bleacher suddenly became transformed, as though by a magic touch, into a gigantic "M" outlined against a background of blue."
Related:
Check out the MVictors Memorabilia Vault 1800-1919
More Michigan stuff on eBay