Take a break from la crise du jour and take in this edition of eBay Watch.   It features a shot of Old 98 Tom Harmon with his son and to-be Hollywood star Mark Harmon, currently up for bid: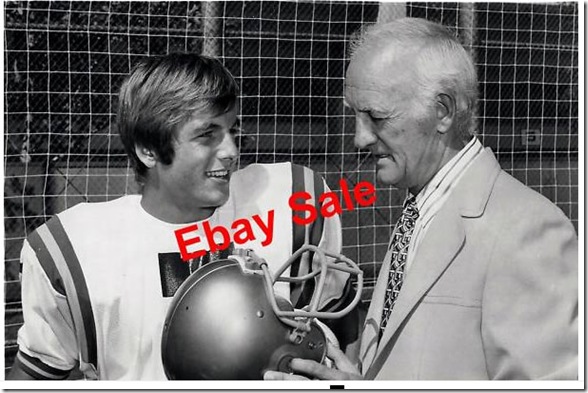 Mark just finished a Pina Colada at Trader Vic's
The auction also includes these shots of dad donning some wingless "U OF M" headgear alongside son Mark in his UCLA #7 about to toss the rock while simultaneously breaking hearts: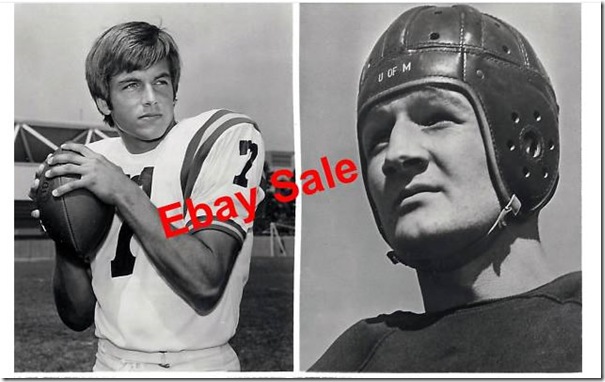 The 'U OF M'-ed helmet didn't quite stick like the winged helmet, to be certain
eBay Watch mavens might recognize the first image.  It was used in a 1973 Michigan State-UCLA program that led this January 2008 eBay Watch post.   As noted back then, the younger Harmon's Bruins faced Michigan in Pasadena ('72 regular season) and MSU in East Lansing ('73).
There were a couple storylines leading into the Wolverines trip to Los Angeles in 1972. The week prior UCLA started their brutal schedule with a huge win over #1 Nebraska, snapping the Huskers' 32 game winning streak.  It was Harmon's first game for the Bruins, and a wishbone offense was installed to suit the new quarterback. Mark was named the MVP of the game and finished with 71 rushing. A headline in Sports Illustrated that week declared, "YOUNG HARMON MAKES HIS MARK: From Out of Hollywood Comes the Saga of Mark Harmon, Handsome, Articulate, the Son of Old No. 98".  Then the editor took a cold shower.
The other storyline for the game was of course the son playing his legendary father's former team. Mark mildly considered following his old man's giant footsteps in Ann Arbor but eventually chose UCLA over Oklahoma, Michigan, Miami and Colorado. From a 2006 SI interview with Richard Deitsch:
SI: Did you ever think about going to Michigan, where your father [Tom] won the Heisman Trophy in 1940?
Harmon: I was recruited there, but my dad stayed completely out of it. He would be there to talk if [I] wanted to discuss things but he would not venture an opinion of what he thought. He believed it should be my decision and it was. But I came close to going to Oklahoma.
Schembechler's defense didn't give the latter storyline a chance to play out as Harmon was knocked out on the second series of the game after attempting and missing on his only pass. Ahh, the wishbone. In the end, #12 Michigan upset #6-ranked UCLA in a 26-9 drubbing. The Wolverines finished the '72 season 10-1 with their only loss on the road in Columbus. Harmon's Bruins finished up 8-3, but the Nebraska upset is still talked about today.
As far Mark's #7 jersey, I'm not sure if there's any significance, perhaps he had his dad's 98 in mind by taking the next number in that sequence (and the UCLA equipment manager couldn't be talked into 99, 98 or 97 for a quarterback, haha)?  Anyone know? 
FWIW, the younger Harmon did offer one version of how his old man ended up with the iconic 98 in that same Deitsch Sports Illustrated interview, and I support this version:
SI: Why did he wear number 98?

[Mark] Harmon: As a freshman [in high school] he was once chewing gum while the coach was talking and the coach got upset. He told him to get off the field but my dad said no. So they lined him up against the varsity and they kicked off to him and he ran three consecutive kickoffs for touchdowns. The coach told him to go to the office and pick out a uniform. So he did and he was the first one there. He picked the newest jersey, newest pair of pads, newest everything. He felt good and as he came back down from the office, the rest of the team was coming up. He went down to the field and the coach told him he had the starting halfback's uniform on. The coach said, "Go take it off and get something else." So he went back there and everything was gone except a moth-eaten torn-up jersey in the corner. Number 98. He loved that number and it came up continually in his life. It was the name of his sports-production company.
The auction of the Harmon photos ends August 25th, with bidding starting at $10.00.
Elsewhere on eBay, 'Harrison-Ford':
Yes, an auction of a photo of George Harrison with Gerald Ford, with George showing the prez the gun show?  Whatever it is, this is a classic.  I'm guessing the long hair guys in this shot used the word "man" a lot.  A lot: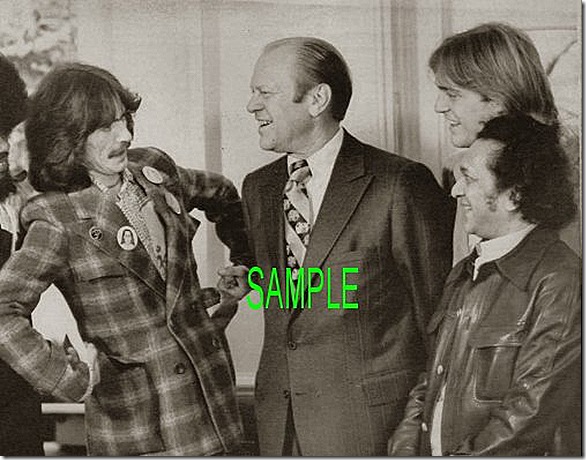 Now get back back to la crise du jour.
Related, the Entire Harmon eBay Watch Portfolio:
The Drunk and Old 98
Tommy's the BMOC
Harmon and Old Number..Six?
Tom Harmon says 'Vote Heston'
Harmon Jitterbugs with Joan & Jinx
Harmon Goes for the Gusto