Next up on eBay Watch is a great photo of three icons in Michigan football lore: The Wistert Brothers, Albert ("Ox"), Francis ("Whitey") and Alvin ("Moose"):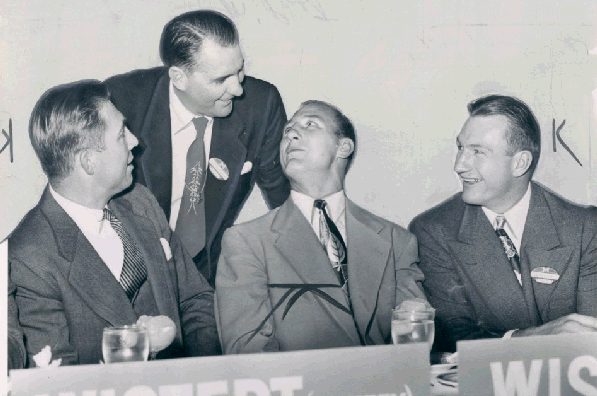 The three brothers are seated as then head football coach Bennie Oosterbaan drops in for a visit.  
These men, including Oosterbaan, represent four of the seven men who've had their football numbers retired by U-M.  Each of the Wisterts wore #11 and Oosterbaan #47.  All these men are enshrined in the College Football Hall of Fame.  
Francis or "Whitey" started off the Wistert tradition, playing for Michigan from 1931-1933 on Harry Kipke's championship teams.  Remarkably he had no background with football before coming to Michigan but worked his way onto the team and starred for the '33 national championship squad.
Albert or "Ox" arrived on campus several years later in 1940 and became an All-American in 1942.  He went onto a stellar NFL career for the Eagles where he was a frequent All-Pro selection.
Alvin or "Moose" had a bizarre path to Ann Arbor.  He's actually four years younger than Ox, but arrived in Ann Arbor four years later.  From his biography on the College Football HOF site:
He was a high school dropout and spent six years with the Marine Corps during World War II before entering college. Because of his lack of high school credits, Wistert was required to pass a battery of skill tests, which he did with ease. Not wishing to live in the shadow of his two famous brothers, Alvin enrolled at Boston University and lettered as a 30-year-old freshman football player. He transferred to Michigan, played three years at tackle, was All-America in 1948 and 1949, and team captain in 1949. Michigan won the Big 10 championship all three years. He stood 6-3, weighed 223 pounds. At age 33 in 1949, he became the oldest player ever named All-America.
Want to own this piece of football history?  Bidding starts at $9.99 for the auction that concludes January 17.
Elsewhere:  While this isn't a jersey that belonged to the Wisterts, they probably played with the gent who once wore this authentic Wolverine uniform dating to somewhere in the 1930s or 1940s that was just put up for auction: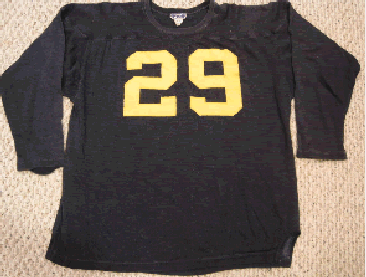 The seller's asking a cool $5,000 for it so good luck explaining to the old lady!