Michigan football and presidential have politics mixed a few times over the years, especially when 1934 team MVP Gerard Ford was making a run at retaining his seat in the Oval Office in 1976.  Here's a wire photo up on eBay right now from September 1976, featuring legendary Michigan radio voice Bob Ufer and the 38th POTUS inside Crisler Arena: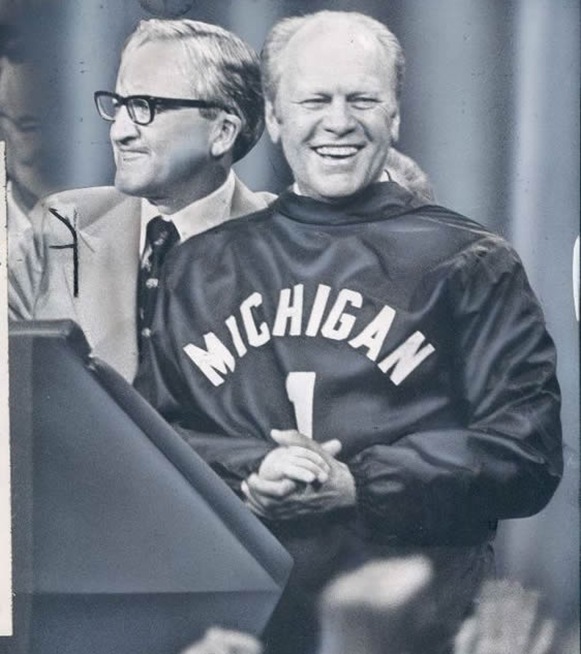 Ford used this September 16 to kickoff his campaign for the upcoming November election.  The event had a very football-centric them, with Ufer serving as his hype man, welcoming the crowd to "Crisler's Cathedral, Cazzie's Castle, or better yet, the home of the number one football team in America" [Michigan Daily].   Ford kept the football theme rolling by telling the audience he'd "rather run against Jimmy Carter than Harlan Huckleby any day of the week."
It was fitting that just like a game in the Big House, the Crisler crowd belted out The Victors, occasionally cheered but also, at times, heckled and booed the President.   Gotta love Ann Arbor.
The man many of the students in the crowd preferred had his campaign well underway, and that was of course that was the eventual winner of the November election—Jimmy Carter.   Carter even got his name of front of Michigan football fans, albeit much earlier.  Check out this roster sheet Carter's team distributed before the January 1976 Orange Bowl, coincidentally also up on eBay right now as well: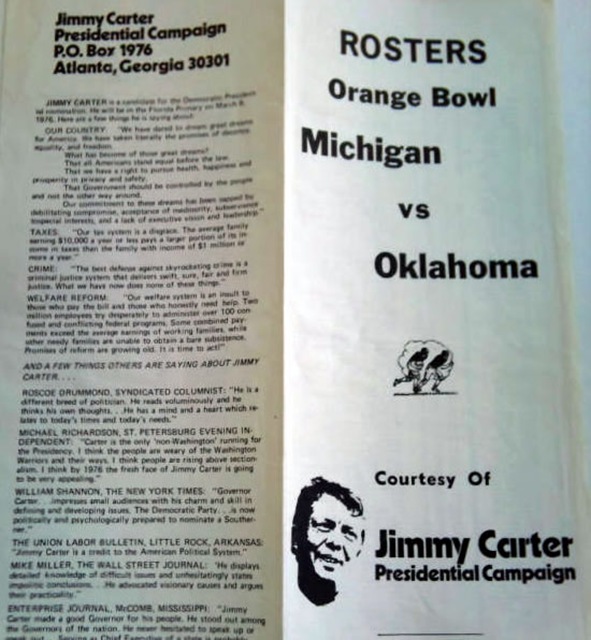 Carter won the 1976 election and edged Ford the popular vote (50% to 48%), with Ford taking the state of Michigan 52-46 including Ann Arbor's Washtenaw County.
Related:
* eBay Watch: 1976 Orange Bowl Stub (Detail on the game and the epic MMB halftime performance)
* Black and Blue – New Trailer For Gerald Ford-Willis Ward Documentary