I understand one of the most sought after classes for undergrads at U-M is John U. Bacon's sports journalism class.   Surely that in part due to the course materials (you mean there's a class about sports?) and in part due to Bacon himself, recipient of last year's Golden Apple Award.   Last fall I had the pleasure of visiting the class along with Brian Cook of mgoblog to talk a little bit about blogging.
I'm guessing a few folks in the 1920s lined up for this class.
The next edition of eBay Watch takes a look at a notebook from a lecture on football apparently taught by Fielding Yost himself in the summer of 1925.  I don't know if it was a University sponsored class or just a clinic-like course open to coaches and the like.
Here's the only photo from inside the notebook showing some of the knowledge dropped by ol' Yost. Looks like a strategy on crushing the weak side with a jailbreak of blockers: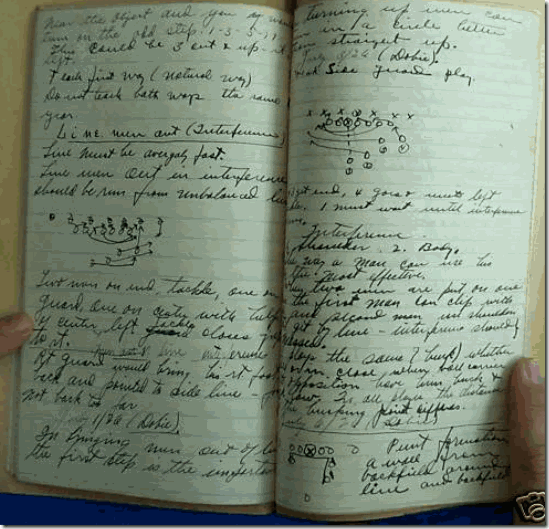 The book also contains notes from lectures in 1926 by Milton Orlander (an assistant under Robert Zuppke at the University of Illinois), and Gilmore Dobie of Cornell University. 
The lucky chap who took these detailed notes?  The seller isn't sure – perhaps closer inspection will reveal that.
The auction of the notebook ends October 6 and had an opening bid of $9.99.
Related:
Roadshow: 1837 Michigan Seal
Yost Wants a Real Wolverine
The Wolverine Pack & 1926