I've published a few posts on these pages on probably my favorite decade of Michigan football: the 1930s.   During this period Michigan football experienced back-to-back national championships followed by arguably the worst season in the history of the program.   The era included the presence of a future U.S. president, a scandal with The Little Brown Jug, and a controversy over the participation of a black player that set the campus ablaze.
The man who presided over this period was coach Harry Kipke, the All-American player under Fielding Yost in the 1920s who earned 9 varsity letters in Ann Arbor.   I love to note that Kipke was renown for his punting prowess on the gridiron.  His finest performance was probably when he helped spoil the dedication of Ohio Stadium in Columbus when he sent eleven balls into the air including nine balls that sailed out of bounds inside the Buckeye 8 yard line.  Writer Walter Camp wasted no time calling Kipke the greatest punter ever after the performance.
This edition of eBay Watch leads off with a wire photo from January 1936 of a shirtless Kipke, then head football coach of the Wolverines, aboard the 'Flo', the sailboat he named after his wife: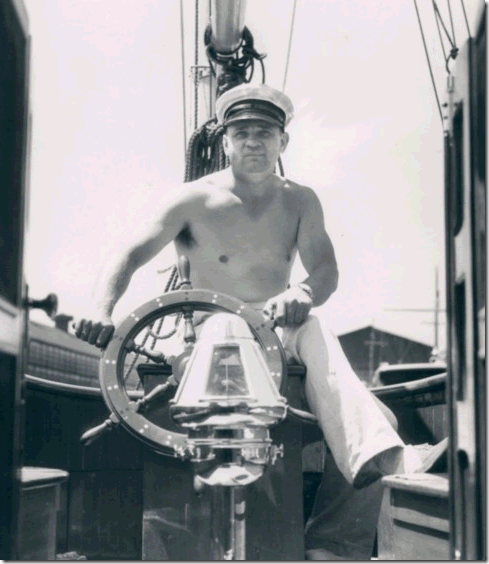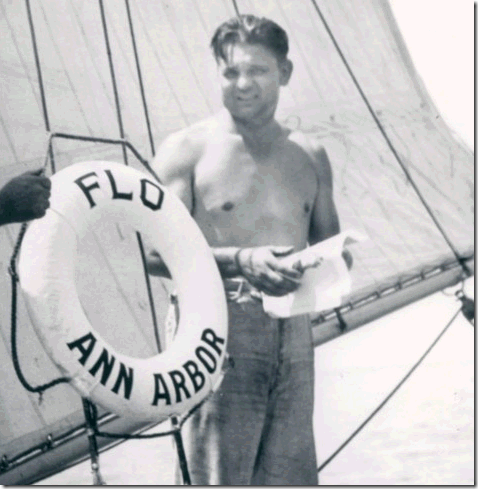 While Kipke's coaching career roared early on (he claimed four straight conference championships and in 1932 and 1933, national titles), he didn't have much wind in his sails in the winter of '36.   In 1934 the Wolverines sunk to a new low, going just 1-7 and only slightly recovered in 1935 finishing 4-4 with shutout losses to Illinois, Minnesota and Ohio State to end the season.
Kipke certainly had some equity in the bank with Michigan fans due to the titles and from his playing days and obviously didn't mind having the media aboard the Flo that winter to snap some photos.  But you've got to wonder if modern M fans would have taken kindly to their struggling coach basking on a boat after a couple tough seasons.  Heck, Bill Martin will probably never live down the Barnacle Bill episode during the coaching search.
Unfortunately for Kipke things just got worse later that year as his Blue finished 1-7 in 1936 and 4-4 in 1937.  Soon after the '37 campaign he was fired and eventually replaced by Princeton coach and to-be M legend Fritz Crisler.
On the face, you'd think Kipke would have had more of a chance to right the ship, especially given the titles he brought to Ann Arbor, but the sacking was far from solely performance-based.  The board in control of athletics issued to Kipke the following five reasons for his dismissal, and they were published in the December 12, 1937 Chicago Tribune:
1.  That he engaged in the practice of subsidizing athletes.
2.  He failed to organize his coaching staf.  [yes, one f.]
3.  He was incompetent.
4.  The board objected to his private associates.
5.  He tolerated summer football practice.
Yikes.  Here's a brief look at a few of the spiciest of the charges:
Subsidizing players.  Yes, it appears as though Michigan promised the classic nice "jobs" to incoming freshman.  According to a university report players were basically guaranteed a wage at certain jobs whether they showed up or not.  The local employer was "instructed to bill another Ann Arbor firm for the time the freshman collected for not working" [Chicago Tribune, 11/11/37].  The whole thing unraveled when a bogus "employer" wasn't reimbursed in a timely manner and complained. 
Those "Private Associates".  This was aimed squarely at Kipke's pal Mr. Harry Bennett, henchman/head of security at Ford.  Henry Ford sent his problems to Bennett and they disappeared.  Or were buried up north.  Think Joe Pesci in Casino, or perhaps Winston Wolf from Pulp Fiction…in fact Bennett looks quite a bit like Mr. Wolf and Pesci, no?: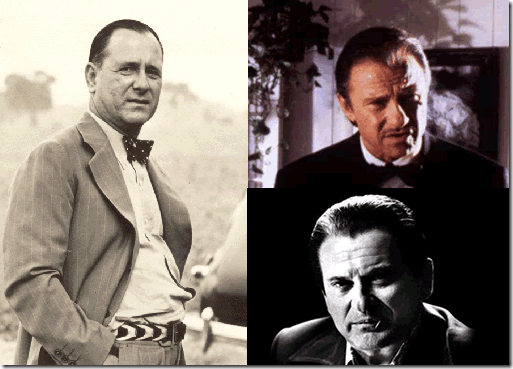 Bennett on the left, with mucho resemblance to the Wolf and Pesci
Search and you'll find anecdotes about Bennett on the web, a favorite of mine:
When a Detroit child was kidnaped, Ford, who had a great love for all children, told Bennett to get the child back.  Before he could do anything, the father paid a $20,000 ransom and the child was returned. Some hoodlum acquaintances of Bennett got the money back by torturing the kidnaper.  The kidnaper went to Bennett's home, shot him in the side and fled.  Bennett asked the police not to prosecute. But, he adds offhandedly: "The gunman was later shot and killed on a Detroit street—in some gang feud, I suppose."
For the many rumored and not-so rumored shenanigans and thuggery led by Bennett, who lived in Ann Arbor in his "castle" along with his pet lions, it was known that he often hired football players to help carry out his dirty work and he was buds with Kipke.  Naturally the faculty and administration on campus turned their noses at such people.
Summer Practice.  Not sure if Kipke employed quality control guys, but it was alleged that most of the team held cushy summer jobs at Ford and whilst there, even worked on their skills, from the Tribune 12/12/1937:


Kipke allowed fifteen Michigan football players to practice three and four times a week throughout the last summer while employed at the Ford Motor company.  The players were said to have worked in the service department under Harry Bennett, Ford personnel director.  On practice afternoons, it was reported, they were driven in a truck from their posts about the plant to a remote place on Ford property along the Detroit river shore for practice.

Conference rules at the time didn't allow practice to start until September. 
Aftermath.  Despite the controversy surrounding his departure, Kipke was still a popular guy amongst the Maize and Blue faithful and served on the board of regents from 1940-47.  He also continued his love of the seas by joining the Navy in 1942 and even served as president of the Coca-Cola bottling company in Chicago.
The photos of Kipke are available for $9.99 on eBay right now.
Related:
Yost's Warning to you Drunks (1933)
1933 and the Dickinson Formula
1933 MSC Ticket Application
Harry Kipke and the Fall of 1934
Smoke 'em if you Got 'em (1935-ish)