If you read these pages you know I spend my share of time perusing the U-M Bentley Library, and last year I wrote a piece about how the Michigan athletic archives ended up at that great facility on Beal Avenue.  
Occasionally I stumble upon something worthy of the attention of library curator Greg Kinney.  Last June I presented enough evidence to convince the library to change the recorded score of the 1909 Michigan-Syracuse game, giving the Wolverines an additional point.   In 2008, with the help of some former players, a mystery player in the 1968 team photo was properly identified.
Recently I found something that required another visit to Beal.  It started a couple weeks back when I spotted an interesting item in one of my eBay feeds.  A seller offered up a page from a January 1899 issue of Harper's Weekly featuring a photo of the 1898 Michigan football team: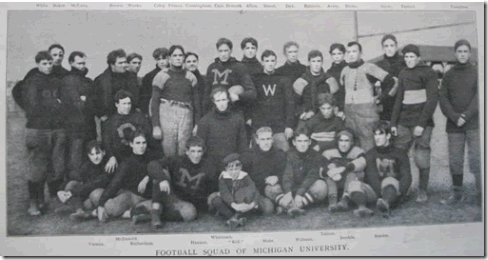 Normally this wouldn't be a big deal as people sell century+ old (often reproduced) team photos all the time.  But clearly this wasn't the formal team pic shot in a studio—it was more likely taken after a practice or a game on the field.  The Bentley Library has published a variety of such alternate team photos over the years (here's one of the great 1901 team, here's one of the 1924 team) but they didn't have anything for the 1898 team. 
I figured this was something worth grabbing, so I bought the page and last week stopped by to see Kinney.  He confirmed it was something they didn't have in the collection and wanted a copy.   They've got it now: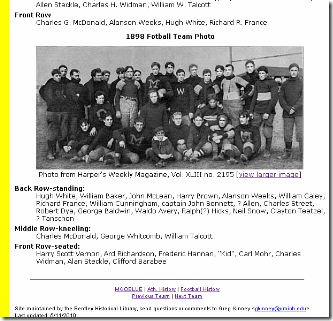 I was thrilled to get this added to the record at The Bentley and it meant even more to enhance the archive of this great team.  Gustave Ferbert's men finished a perfect 10-0 outscoring opponents 205-26.  Perhaps more significantly, on the season finale held on Thanksgiving day 1898, Michigan marched into Chicago and defeated Amos Alonzo Stagg's mighty Maroons 12-11.   The great victory inspired U-M music student Louis Elbel to compose The Victors.  This was a cool team and yes, something actually happened on the U-M gridiron before Yost stepped on campus.  Note that many of the key players on The Grand Old Man's perfect 550-0 team of 1901 strapped 'em up in 1898, including captain Hugh White and All-American Neil Snow. 
One final note, it appears as though the '98 squad had something of a good luck charm in the form of "Kid":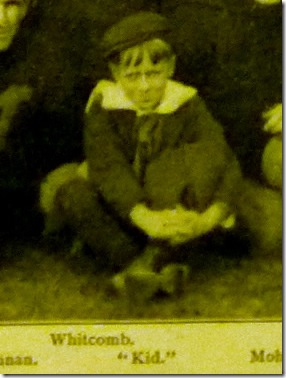 And I'm guessing "Kid" would also be thrilled to learn he made it into the Bentley Library records:

Follow MVictors on Twitter