Fresh up on the eBay, a pigskin signed by the 1958 Michigan football squad: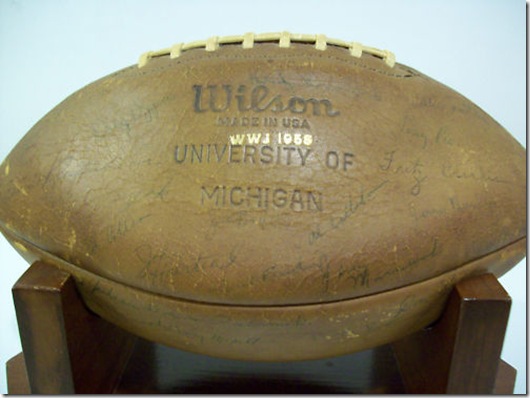 Above 'UNIVERSITY OF MICHIGAN' it is stamped 'WWJ 1958'.   Certainly the WWJ stands for longtime radio station WWJ in Detroit which aired Wolverine games for many years, including, according to the Bentley Library, what is believed to be the first live broadcast from a football stadium in 1924.
The auction's limited description doesn't indicate why it says WWJ or when the ball was signed, but perhaps it was passed around during the annual bust held in December of that year after the rough season.
How rough?  Well, the Wolverines finished 2-6-1, losing their final four games and prior to the finale against Ohio State coach Bennie Oosterbaan resigned.  This probably didn't help matters: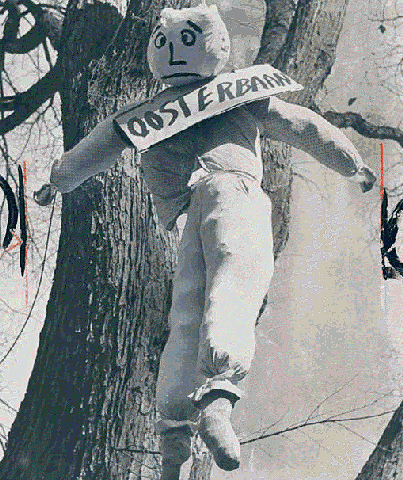 There was no drama or transition period after Oosterbaan handed in his resignation.  He stayed at the University and former star player and then assistant coach Bump Elliott took over effective January 1, 1959.
Back to the ball, while it doesn't appear to be loaded down with superstars, it does include Oosterbaan's predecessor and current athletic director Fritz Crisler:

And historians might recognize the name Harry Newman, the great quarterback from the early 1930s, but..

..you might also noticed the "Jr." tagged on the end.  That's Harry Newman's son who didn't leave quite the mark on the program as did his old man…but few have.  Ask Willie Heston, Jr. and Fielding Yost, Jr., who played coincidentally with Harry Newman, Sr. on the 1930 squad.  There's still time for TWoolf29.
Speaking All-Americans, it's notable that Oosterbaan, Elliott, and Crisler's predecessor Harry Kipke were each All-Americans on the field at Michigan but had underwhelming coaching careers on the sideline for the Blue.  They either resigned after a tough stretch of seasons and mounting pressure (Oosterbaan, Elliott) or were canned (Kipke).  File under FWIW for All-American Harbaugh.
You can buy the righteous signed pigskin here.
** Follow MVictors on Twitter