This really caught my eye tonight and it qualified for instant inclusion in eBay Watch.  It's an award given to the 1919 Michigan baseball team celebrating their conference championship: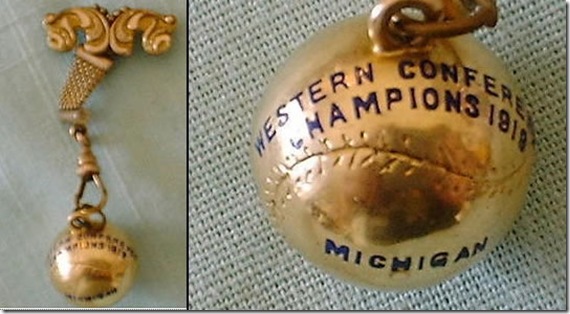 According to the auction description this prize was originally given to "T.C. Garrett – 2nd base".   Further, the seller claims the charm is "gold-filled except the baseball which looks to be solid gold."  Top notch.
Coach Carl Lundgren probably presented Garrett with this prize and it was well deserved for the Wolverines.  They finished the conference schedule undefeated at 9-0 and dropped but a single game all season.  The concept of the College World Series wouldn't arrive until 1947 (in Kalamazoo, not Omaha) so the Western Conference title was the brass ring.   Lundgren's tenure at the helm (1914-1920) rested between two legends, Branch Rickey (1910-1913) before him and afterwards, the great Ray Fisher (1921-1958) who lead Michigan to its first CWS title in 1953.
No one's met the reserve yet, opening bid $9.99.  I hope this finds a good home.
Elsewhere:
One nice thing about having the eBay Watch series running as long as it has, I'm getting more and more people contacting me about unique auctions or items.   Thanks to everyone who has emailed as of late. 
This came directly from the Bentley Library curator Greg Kinney a week or so back and it's not available on eBay.  It's a gold pocket watch given to Michigan athletics legend Horace Greely Prettyman:
The owner of the watch contacted the Bentley asking if any collectors, family members or historians would be interested in purchasing the watch.  Per the owner:
14K. Waltham Watch Co. Personalized pocket watch that was presented to Horace Greely Prettyman from the Fraternity Lodge No. 262 Ann Arbor Michigan  on 12.20.1898.
Not familiar with Prettyman's work?  I don't go to Wikipedia too often for info on historical posts but HGP's entry is well done:
Prettyman won a record eight varsity letters at the University of Michigan, playing for the school's football team from 1882–1886 and 1888–1890. He was the team's captain in 1884, 1885, and 1886, and scored the first touchdown in the first game played at Michigan's first home football field in Ann Arbor. Prettyman later became a successful businessman and civic leader, operating a boarding house, a laundry service, a power company and the Ann Arbor Press, and holding office as an Ann Arbor city councilman, postmaster and Washtenaw County, Michigan supervisor.
Amazing resume.  And Prettyman strived to keep pace with his surname, changing his look as fashion and/or the ladies dictated as the years passed by.   Judge for yourself, from a few of the team photos over the years:

Anyone with serious interest in the Pettyman watch?  Send me an email.