As noted here, eBay's been flooded lately with sellers unloading some incredible old wire photos and I'll continue to highlight a few of the beauties on eBay Watch.   
Here's a pic currently for sale from the turn of the last century at the inaugural Rose Bowl and more specifically, from the actual "Floral" Parade prior to the game.  Funny, it looks like Willie Heston and crew are decked in their game uniforms and presumably taking the wagon directly from the parade route to the game!: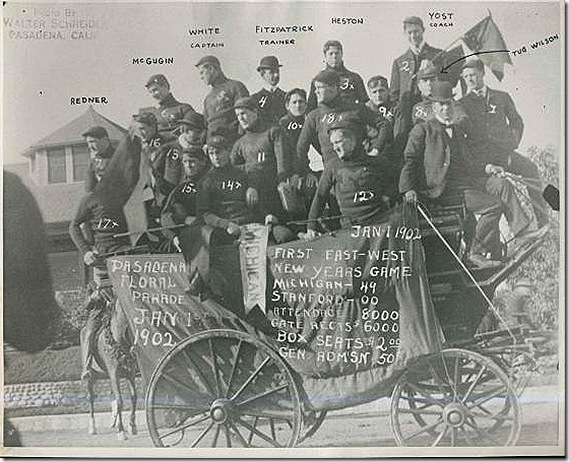 Someone jotted a few statistics on the shot including the final score of the game (Michigan 49, Stanford 0 – rounding out U-M's perfect season in which it pounded opponents 550-0).  It's noted that the attendance for the "East-West Game" was 8,000 (the Bentley Library doesn't list the attendance) with total gate receipts at $6000.  Box seats went for $2.00 with General Admission at $.50.  Tickets to the 2010 Rose Bowl are $155 at face value.
Fortunately that's not the only shot Fielding Yost's fine team from that trip to California.
A photog also caught the crew on a trolley, republished in the book Tradition: Bo Schembechler's Michigan Memories: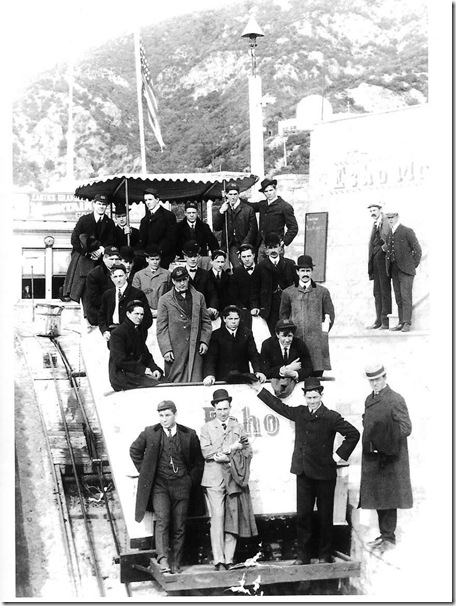 The auction of the Rose Bowl parade shot ends December 29, bidding starting at $9.99.
Related:
Rah-Rah-Rah Rose Bowl Rout (1901)
1901 Season Football Pass (1901)