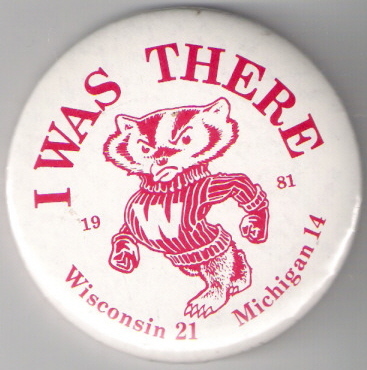 This edition of eBay Watch takes a look at an interesting pin commemorating Wisconsin's 1981 victory over Michigan. Certainly no one in Madison would produce a trinket today for a regular season victory, but keep in mind that Barry Alvarez wouldn't arrive for another decade and Badger football consistently had a place at or near the bottom of the Big Ten.
The lowly Badgers and hadn't defeated the Blue since 1962 and in the previous four meetings Bo's Wolverines outscored Wisconsin 176 to zero.   Michigan was riding a nine game win streak (including Schembechler's first Rose Bowl victory) and that was enough for the pollsters to slot the Wolverines #1 in the preseason poll.
This seemed to be an ideal opponent for the opener, held September 12, 1981, and Michigan came in as a 19 point favorite.  Over 68,000 pickled fans witnessed the historic 21-14 upset.   Longtime sportswriter Jack McCallum was on hand for Sports Illustrated:
Last year Wisconsin didn't score a touchdown until its fourth game. On Saturday in Madison, against a Michigan team that hadn't yielded a touchdown in 5 games, Wisconsin scored two touchdowns in the second quarter and the gamer—on a 71-yard pass play. Quarterback Jess Cole throwing to Tailback John Williams—in the third. "This win is the best thing that ever happened to me," said Coach Dave McClain.
The issue? Michigan's new dual threat quarterback Steve Smith struggled big time in the game. More McCallum:
For sure, Schembechler now knows, if he didn't beforehand, that he has a quarterback problem; freshman [Steve] Smith may run a 4.5 40, but he completed only three of 18 passes for just 39 yards and threw three interceptions—all by Safety Matt Vanden Boom. And if Schembechler can't find a quarterback who can get the ball to Anthony Carter, who caught only one pass for 11 yards against Wisconsin, well. Bo may not visit Pasadena on New Year's Day after all.
The 1981 Wisconsin game was certainly not the last time that fans created souvenirs commemorating a regular season win over the Wolverines. Heck, it happened at least twice this season (Toledo, Michigan State) and of course you can still load up on goodies like this: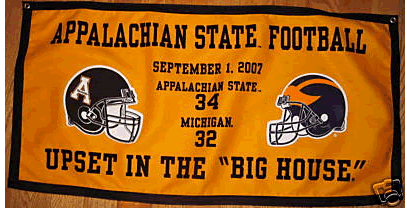 In closing the SI column McCallum loaded up his pen and described the scene on the campus. In my mind's eye I kind of envision State Street Madison being like this every Saturday night, but read on:
On Saturday night, though, State Street, the main drag, was loaded with people. Many were loaded; many were hanging from lampposts; all were singing the Badgers' theme song, whose tune is that of the Budweiser ditty: "When you've said Wisconsin, you've said it all."
More on the 1981 Season:
There would certainly be a few ups and downs but the Wolverines got a lift the following weekend. Notre Dame assumed the #1 ranking after M was upset, but Bo's men were no doubt fired up as they hammered the Irish 25-7.
Sadly we lost legendary Michigan radio voice Bob Ufer during this season. He gave his legendary goodbye at the Iowa game and the Michigan Marching Band delivered a special formation in his honor [More from M Zone]: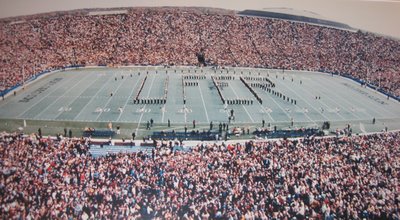 1981 featured an incredible roster (Wangler, Humphries, Carter, Paris, Edwards, Woolfolk, Hammerstein, um, Boren, etc.)  That's impressive, but check out some of the names on the coaching staff:  Schembechler, Carr, Miles, McCartney, Hanlon – wow.
No, Michigan didn't make it back to Pasadena that season. They settled for a trip to Houston's Bluebonnet Bowl where they faced UCLA in the first Pac 10 vs. Big 10 bowl game outside the Rose Bowl. WolverineHistorian put together a nice package for you, as the Victors prevailed 33-14:
Curiously, UCLA was a very familiar foe for old Michigan in 1981 and 1982.  After defeating the Bruins in the BB bowl, the teams met again the following September [31-27 loss] and again in the Rose Bowl later that season [24-14 loss].
You can view the full auction here, ending soon.  Other cool auctions out there: