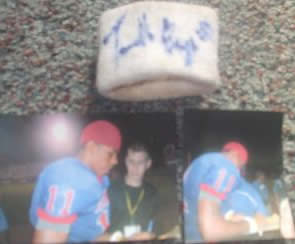 Stumbled upon this on SI.com's Fan Nation, looks like a wristband worn and signed by your hero Terrelle Pryor is being sold on eBay right now for a cool $349.99. (Maybe the seller will use those funds for a new camera).
According to the seller, Ohio State is out of the running for TP….it's down to Oregon and Michigan. Great! The auction reads:
Up for bid in this auction is a Game Used Wristband signed by Terrelle Pryor the #1 ranked high school football player and #10 ranked basketball player in the country. Pryor also put "9/14/07" on the wristband whch is the date of the game he used it in. Terrelle plays for the Jeanette Jayhawks in PA. Pryor is going to MICHIGAN or Oregon next year and hopes to play football and basketball. You will get the Game Used Wristband that is pictured. The Game Used Wristband is signed in Blue sharpie.
Not exactly Mean Joe Greene's jersey!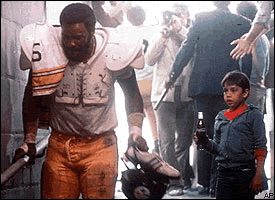 Well, who knows? If TP comes to Michigan and wins the Heisman, that wristband would be worth at least $10, don't you agree? Speaking of Heisman, Michigan youtube Yoda "WolverineHistorian" just put down his latest joint, and nice montage of Woodson and Howard's Heisman seasons with some excellent footage (I particularly enjoyed the endzone shots):