I'm a big fan of the YouTube efforts laid down by WolverineHistorian. Not too long ago MGoBlog offered up that every once in a while you'd like to see a few of the difficult moments in games, not just the endzone dances. I think that's fair.
Likewise, the eBay Watch series tends to focus on the good times and back in the day good times were plentiful. But then you have a season like this.
In April 2008, an eBay auction popped up featuring a 1934 Michigan student ticket book. It actually had tear-away coupons for each event inside, most of which remained unused that season. According to the conditions written jacket, the tickets were to be used for athletic events in general but for football "reserved seating" in particular. The auction closed for $40.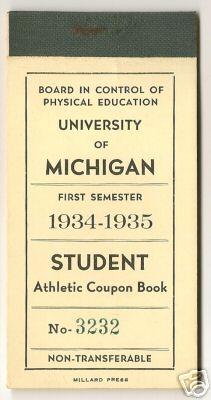 As a U-M student in the early nineties, I recall we were required to use the coupon books and I thought this was primarily a means to stem the sale of individual games. Apparently this wasn't just a recent phenomenon as there was definitely an attempt by the University to crack down on anyone using these tickets beyond the rightful owner. The student was required to sign off on a set of conditions and the fine print within the ticket jacket included a strong warning:
"If presented for admission by any person other than the owner the book will be forfeited, taken up at the time of improper presentation and full admission collected."
The owner of these student tickets certainly realized that they're would be some challenges on the field in the upcoming season. Kipke lost three All-Americans (Charles Bernard, Francis Wistert and Ted Petoskey) and a host of other key players. Sound familiar?
The 1934 season is probably most recognizable for the presence of its senior center and future President Gerald Ford. Arguably the most famous Michigan football player of all time, the Grand Rapids native was named MVP of a team that experienced a stunning reversal of fortune from the heights reached by Kipke's previous four seasons. The two-time defending national champions won just a single game in 1934, finishing 1-7.
How bad did it get? For the year the Wolverines were outscored 143-21 and weren't able to manage a single point in five of the eight games that season.
The lone win that season was a 9-2 squeaker over Georgia Tech in Ann Arbor, a game which carried greater significance. The 1934 squad included Willis Ward, an African American player who happened to be Ford's roommate on road games. The administration at Georgia Tech held differing views of the place of African Americans and they had an issue with the Jackets taking the field if Willis were allowed to participate. This caused quite a stir on campus– the Bentley Library website describes the situation:
At least as early as the fall of 1933, the Georgia Tech athletic director had written to Yost asking what was going to be done about Ward, asserting that his team would not take the field if Ward was playing for Michigan. As game day neared the issue became a major controversy on campus and mass meetings and demonstrations were held. Some students and faculty demanded that either Ward must play or the game should be canceled [Ed: I write on the campus protests in this May 2009 post]. Others argued that, as host team, Michigan must respect southern customs and hold Ward out of the game. Yost and Kipke did not publicly reveal their decision beforehand, but when kick-off came, Ward was not in uniform.
The incident resonated with the future President. In 1999 Ford wrote an New York Times Op-Ed piece defending U of M's affirmative action admissions policy saying, "Do we really want to risk turning back the clock to an era when the Willis Wards were isolated and penalized for the color of their skin, their economic standing or national ancestry?". Ward eventually graduated with a law degree and later became a well respected judge.
Adding insult to the miserable season, the Buckeyes didn't miss a chance to pile on. It was in 1934 that Ohio State started its tradition of presenting a charm depicting a pair of gold pants to each player if the Buckeyes defeated Michigan. Coincidently these precious charms seem to frequently show up on eBay. During an interview for HBO's The Rivarly legendary coach Bo Schembechler admitted (with a chuckle) that he still had a few of those charms in his possession.
The idea came from new OSU coach Francis Schmidt who sized up the '34 Wolverines and observed, "They put their pants on one leg at a time just like everybody else." Yes, but they also brush their teeth and comb their hair, which apparently hasn't caught on in Columbus.
The trend of poor attendance at Michigan stadium continued that year, averaging just over 20,000 spectators throughout the '34 campaign but the fans stepped up when it counted. Coming off a resounding 34-0 defeat on the road to national champion Minnesota, when the team arrived back home Sunday morning the train station was full of fans waiting to greet the Wolverines. Ford later reflected on what that moment meant to he and his teammates calling it "a demonstration of loyalty that I'm sure none of us has forgotten."
Unfortunately Kipke never really got things back on track. He coached through the 1937 season, never getting a team over .500. Despite the difficult conclusion to his career, Kipke remains one of the most decorated Wolverines coaches in U-M history. Along with his two national championships, he joins Yost and Schembechler as having the distinction of directing teams to four consecutive conference championships.