Update:  Do you have one of these type of vintage Michigan Union enamel pins? (also called pinbacks, lapel pins, tie tacks, among other things)?  Email me at mail[at]mvictors.com:
Common manufacturers of these pins were Burr, Patterson & Auld and Whitehead & Hoag.
Check out this vintage U-M matchbook, up on eBay now: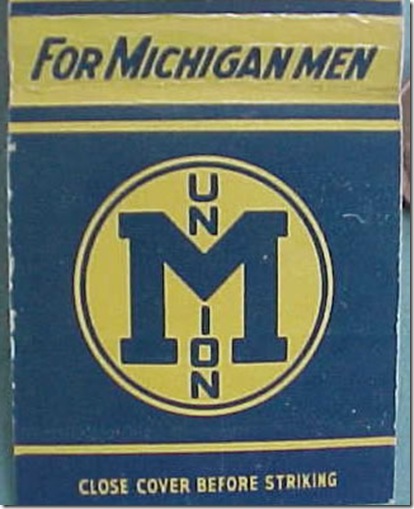 This weekend I pointed out the M logo on a t-shirt that was distributed after the Notre Dame jersey unveiling.  Judging from the new shirt available on M Den (right below), it looks like it's going to appear on gear and branding for the game:

I tried to recall when and where I've seen that style logo before.  Reader Rob correctly noted it looks a lot like the designs high up on the wall at Yost: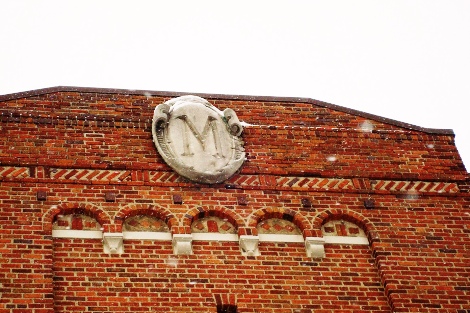 Along with the Yost Field House parapet, it looks like the designers got some inspiration from the old Union logo.   As far as that 'For Michigan Men' slogan on the matchbook, the Union was indeed intended for the fouler sex officially until 1968 if you can believe that.  Some Union history:
Initially, women were only allowed to enter the Michigan Union through the North entrance and when accompanied by a male escort. It was the founders' belief that women already had a social center in the parlors of the Barbour Gymnasium. In 1929, the Michigan League was constructed and opened on North University Avenue. The League, also designed by the Pond brothers, was created as a center for women's social, cultural and recreational campus activities. In 1956, for the first time in its history, women were allowed to enter the Michigan Union without an escort, even through the front doors. The Billiards room, however, held to the old traditions and it was not until 1968 that women were granted equal access to the entire building.
Here's a recent auction of a pin and membership card from the 1912-13 school year in Ann Arbor, belonging to one Sherwood Field (a staffer at the Daily):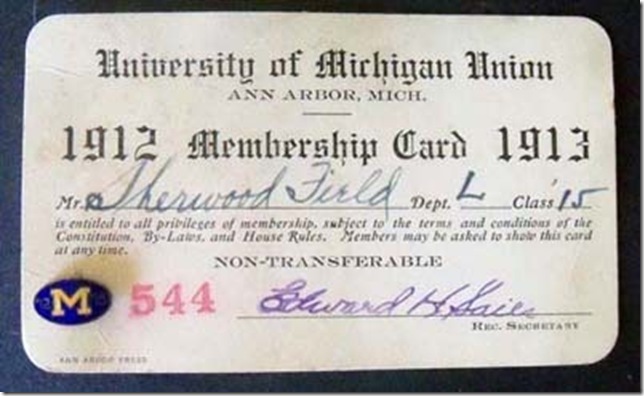 As mentioned above, the Union was effectively an optional men's club for student who paid dues to enter the facility.  In 1918 all Michigan men were automatically enrolled, billiard balls cracked and tobacco smoked.   Each year the Union issued pins that looked something/exactly like this: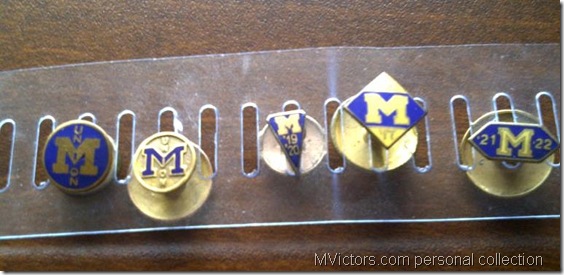 And you'll notice the M logo on the pins on the left looks mucho like the shirt (and matchbook)designs.
Interesting, no?  More on Michigan Union history here.
And don't forget to pick up your Michigan throwback gear from Moe's—the place that supports this site, mgoblog, and many of my friends out there.